Design cues for electric future
Mini says Concept Aceman will "bridge the space" between the marque's Cooper and Countryman.
Posted on 02 August, 2022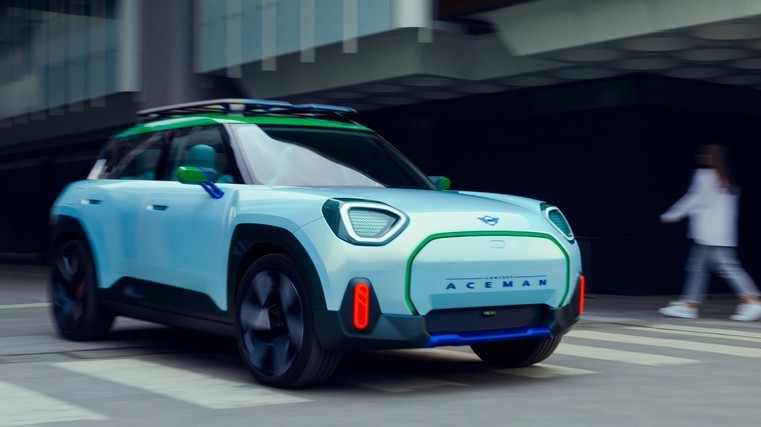 Mini has unveiled its Concept Aceman, the brand's first fully electric crossover model.
It showcases a new design language and technological innovations that will shape the marque's future models.
The EV boasts a "clear, pared-back design language and a material concept that uses no leather or chrome elements" and a new digital-user experience.
"The Concept Aceman provides a glimpse of a completely new vehicle, bridging the space between the Cooper and Countryman in the future of the model family," says Stefanie Wurst, head of Mini.
"This concept reflects how Mini is reinventing itself for its all-electric future and what the brand stands for – an electrified go-kart feel, an immersive digital experience and a strong focus on a minimal environmental footprint."
Key design elements are the vehicle's front end with an octagonal, closed and illuminated radiator grille element, generous chassis surfaces given structure by sharp edges, an athletic shoulder section and a powerful rear with vertically arranged rear lights.
The Aceman's interior is dominated by a reduced design with clear contours and carefully executed details. The dashboard, as a flat design element in the style of a soundbar, extends over the width of the interior and forms the ideal stage for the central instrument, which for the first time is designed as a completely round OLED display.
The classic toggle switch bar is arranged below and is reinterpreted in design and functionality. In this way, the concept combines advanced digital technology with traditional design features in a manner characteristic of Mini.
Seating surfaces have a three-dimensional look achieved by a combination of textile flat knit, velvet velour and waffle weave, an over-dimensional houndstooth pattern and embroidered X and O graphics.
The user interface on the central instrument features a new graphic display, a modern layout and freshly designed widgets. The display and control system in the production vehicle will be based on the latest generation of the Mini operating system, which for the first time is built on an android open-source project software stack.
The display area that extends beyond the central interface is another highlight. Moving image projections can transfer the control system content to the entire dashboard, creating a unique digital experience extending right into the door panels.