December issue out now
Industry experts explain what's in store with the ESC rule, the NZTA's rules on conflicts of interests, profile on Suzuki NZ president Tom Peck, VIA to hold a special meeting, Tokyo Motor Show, in-depth industry statistics and much more.
Posted on 05 December, 2019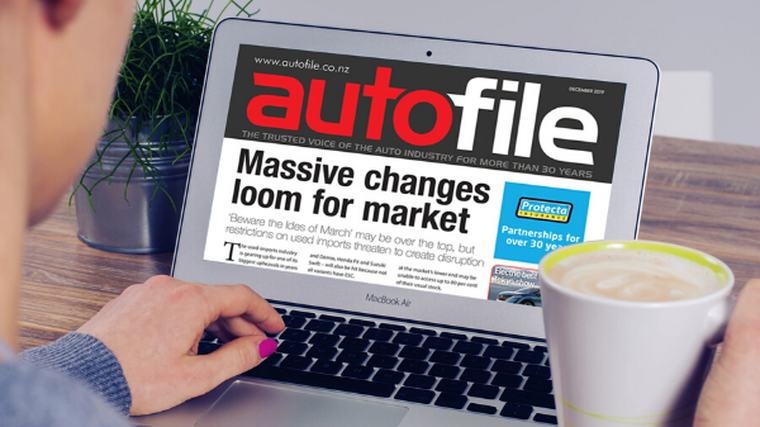 The used-imports industry is gearing up for massive upheavals as the ESC rule fast approaches. It means the end is nigh for the ever-popular Nissan Tiida and many Toyota Hiaces. Autofile talks to experts about what's in store and provides a technical guide to the changes.
Conflicts of interest and how businesses deal with them will feature strongly when the NZTA considers applications from entry-certification and border-inspection operators. Autofile investigates what the process is all about.
It's not quite a case of planes, trains and automobiles, but Tom Peck – president of Suzuki NZ – does have more "toys" at his disposable than heads of other marques. He talks about how he got into the industry and where to from here.
The cost of importing cars will climb if Ports of Auckland closes, according to a report by the NZIER, while VIA is holding a special general meeting in February to change is constitution as part of plans to secure its financial future.
Electric vehicles were under the spotlight at the Tokyo Motor Show, but manufacturers are keeping cards close to their chests when it comes to specifications as competition ramps up.
Heat-treatment facilities developed by ATL landed a major honour at the NZ Biosecurity Awards, all the action from Protecta's and Provident's golf days, and Todd Fuller talks about how dealers can nurture digital leads for better returns.
Plus: The MTA's Tony Everett on clean cars, VIA's Kit Wilkerson looks into the billions invested in driverless future and in-depth industry statistics.
Autofile – first with the news that matters. Click here for your December issue.