Crash footage highlights vehicle safety gap
The NZTA put two cars to the test to show the dramatic differences in the protection provided by a one-star and a five-star rated vehicle. PLUS – video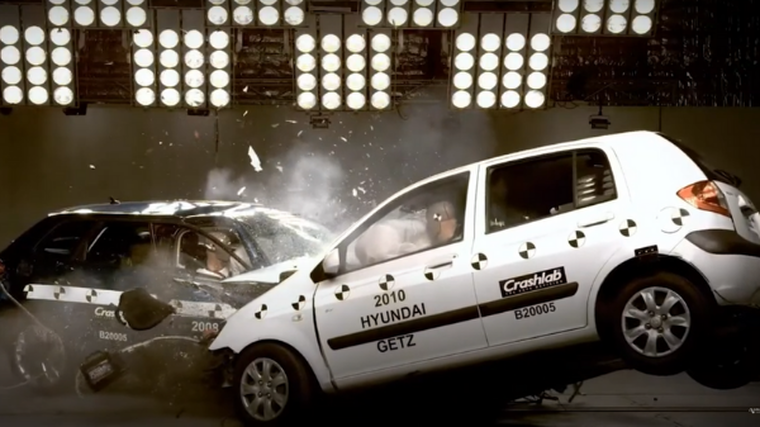 Crash-test footage released by the NZTA provides graphic evidence that choices made when buying used cars could amount to the difference between life and death.
The video shows the results of a controlled offset-frontal test between a one-star safety rated 2010 Hyundai Getz and a five-star 2008 Audi A3.
The models were chosen for the test in consultation with the AA because both are widely available in New Zealand and at a similar price-point.
Testing of the vehicles was carried out this year in the Transport for NSW's Crashlab facility as part of the NZTA's Safe Vehicles programme, which aims to get more Kiwis into cars with four or five-star safety ratings.
The 64kph head-on crash test simulates a common high-speed crash in which one vehicle drifts over the centre line. Readings from instrumented crash-test dummies in each car show a 77 per cent chance of serious injury to the one-star rated vehicle's driver compared to a 12 per cent chance of serious injury in the five-star car.
"Checking the safety rating before buying your next car could well save your life," says Fabian Marsh, the NZTA's senior road-safety manager. "Research shows occupants are twice as likely to die or be seriously injured in a crash in a one or two-star rated car than in a five-star rated vehicle. This latest crash-test result backs that up."
Mark Stockdale, the AA's principal adviser – regulations, says the test results show why everyone should buy the safest vehicle they can afford. "These two models are similar in size, they're widely available as used vehicles in New Zealand within a similar price range, but there's a huge difference in the level of protection they provide in a crash."
Stuart Newstead, associate director at Monash University's accident research centre, reviewed the outcome of the test for the NZTA. "The results are clear – the occupant cell of the one-star collapses crushing the driver's legs. In the real world, this is likely to lead to a serious injury or death, particularly if major leg arteries were compromised.
"The driver of the one-star car would also have suffered a serious neck injury due to the level of structural damage. The five-star car hasn't had the same level of structural damage. This shows structural integrity is a key aspect of vehicle safety. It's not enough to say a vehicle has an airbag so it will be safe. A car is designed as a system of interacting parts. They all need to work together properly to ensure the occupants are protected."
Safety ratings indicate the likely performance of vehicles in an accident – from one to five stars. New Zealand's light-vehicle fleet currently has a high proportion of one and two-star safety-rated vehicles at 41 per cent. They provide far-less protection to occupants than higher-rated vehicles in the event of a collision.
A national advertising campaign launched in February as part of Safer Vehicles targets people looking to buy a new or used car and encourages them to make safety a top factor.
The campaign directs people to the newly designed and expanded Rightcar website, which provides safety ratings covering about 95 per cent of vehicles on Kiwi roads.
Marsh says with about 800,000 vehicles changing hands in New Zealand each year, there is great potential to save lives and prevent serious injuries by encouraging people to buy cars with good safety ratings. A new filter launched by Trade Me earlier this month, and supported by the NZTA, also allows prospective buyers to search for vehicles by their safety ratings.
"We all make mistakes when driving and some crashes are inevitable, but safer vehicles can save lives in crashes," adds Marsh. "Checking a vehicle's safety rating before you buy isn't often high on the list of priorities for many New Zealanders and we need to see that change."
The Safe Vehicles programme delivers on the government's Road To Zero strategy, which was released in December 2019. It outlines a strategy to guide improvements in road safety over the next 10 years. It sets out a vision of a country where no-one is killed or seriously injured in a road crash with a key focus area of significantly improving the safety of New Zealand's fleet.