Couple having sex send car tumbling down hill
FRIDAY FUNNY: Police see the funny side as randy pair need rescuing after Toyota Yaris ends up on its side.
Posted on 01 October, 2021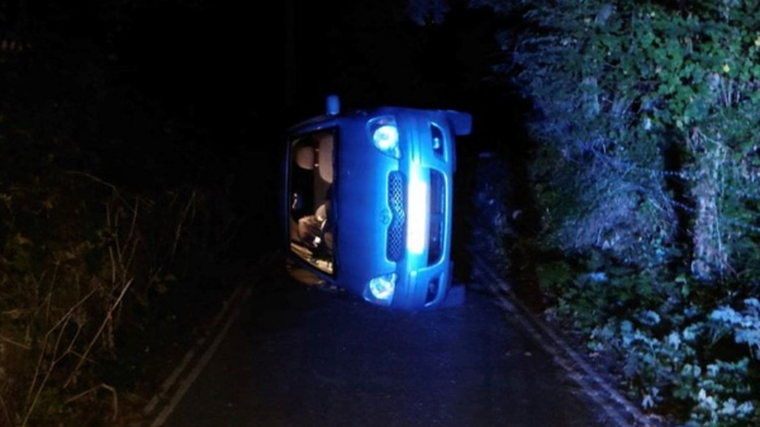 A loved-up couple had to be rescued by police after a moment of passion in a Toyota Yaris ended up with the vehicle tumbling down a hill and landing on its side.
Police say the pair were "strengthening their relationship" when they knocked the handbrake and rolled the hatchback over onto a country lane in Derbyshire, UK.
Derbyshire Roads Policing Unit shared images of the car following the incident last month.
The unit wrote on Twitter: "At an undisclosed location in Derbyshire the couple occupying this Yaris had parked up and were strengthening their relationship.
"Whilst doing so the handbrake has become disengaged and it rolled down a hill before flipping on its side. No injuries."
Brad Sadley, the 18-year-old driver of the Yaris, told The Sun he and his girlfriend had parked at a secluded beauty spot after a romantic date at McDonald's.
He left the engine running, put on some music and they jumped into the back of the car for some fun before disaster struck.
Sadley, who tested negative for drink and drugs, says: "That's the last time I ever do anything like that in the Yaris."
Autofile will be bringing you a Friday Funny online every week and we would love to see any entertaining videos, pictures or stories related to all things automotive that you know of or want to share. Email them to editor@autofile.co.nz