Car market mirrors past era
Colonial chairman predicts burst of extra demand for dealers before clean-car discount kicks in.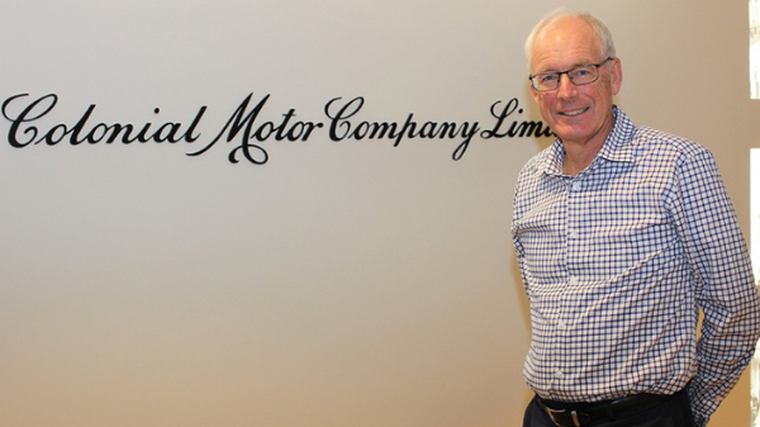 The head of Colonial Motor Company says the current car market is reminiscent of how it was 50 years ago as the supply of vehicles faces constraints and government regulations are shaping demand.
Jim Gibbons, chairman, says many orders are taking between three and six months to arrive here and he notes the recently announced clean-car policies are "another complication" for the industry.
"One of the features of trading and the present environment is that there is very little inventory," he tells the NBR.
"We've now been a full year with interrupted supply lines and that has emptied out any reserve of inventory that was floating around."
Gibbons, pictured, adds that since details of the rebates and feebate scheme were revealed in mid-June there has been a surge of enquiries for new-vehicle purchases, especially from commercial buyers.
He predicts the policies will boost sales until the end of the year, particularly for utes, as consumers try to avoid the penalty fees that will be levied on vehicles with high exhaust emissions from January 2022.
The government is offering rebates on battery electric vehicles and plug-in hybrids that meet certain criteria for the second half of this year. After that a clean-car discount scheme is being introduced that will offer money back or charge extra fees on newly registered vehicles based on their emissions rating.
Gibbons expects six months of buoyant activity for dealers ahead of the feebate programme but warns demand is likely to be "softer" by this time next year.
He compares the current environment to how the industry was in the 1970s when dealers were restricted by supply and customers had to wait for them.
"Add to that now that government regulations come in, and that influences demand on the spot, regardless of the pipeline – that is very reminiscent of what happened in the 1960s or '70s. I guess we're going back to that era."
His comments come after Colonial updated its guidance to the NZX and says it expects full-year trading profit for 2021 to rival its record $24.75 million profit from three years ago.