Bright outlook for city's port
Car and light-commercial vehicle traffic at Ports of Auckland fell by 15.2 per cent to 216,356 units in 2019/20 compared to the previous fiscal year.
Posted on 29 September, 2020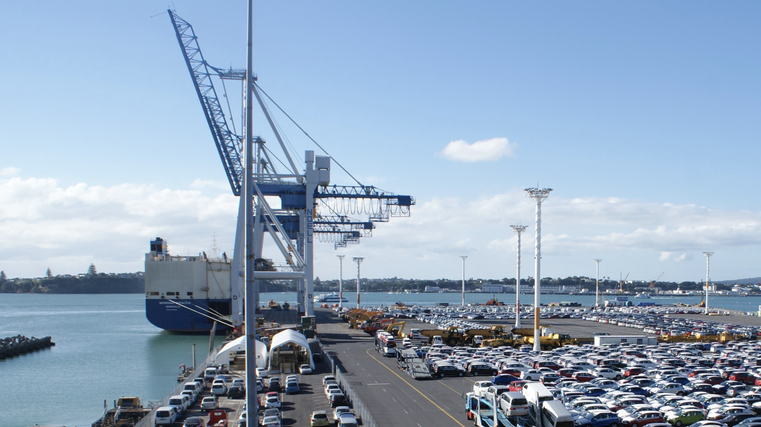 Short-term results at Ports of Auckland Ltd (POAL) have been impacted by Covid-19, but the ongoing transformation of its technology and capacity continues.
The company reports that group revenue fell by 6.7 per cent to $231.4 million during 2019/20 from $248.1m in the previous year, with reported net profit after tax coming in at $23m compared to $53.9m.
During 2019/20, container volumes dropped by 6.3 per cent to 880,781 TEUs (20-foot equivalent units) compared to 939,680 in 2018/19.
Car and light-commercial vehicle throughput over the same timescale decreased by 15.2 per cent to 216,356 units compared with 255,252.
Total bulk and breakbulk handled – including cars and light commercials – went down by 11.7 per cent to 5.8m tonnes from 6.5m, while on-car bulk and breakbulk volumes went down by nine per cent to 3.4m tonnes.
"A huge focus this year has been to keep our people safe from Covid-19," says Tony Gibson, POAL's chief executive officer.
"We acted early and comprehensively to put safety measures in place, and to ensure our people could continue to deliver essential services.
"Automation is bringing many changes and we are delivering a training and support programme to help our people through them.
"As expected, automating our container terminal while still running a full operation has presented challenges exacerbated by the lockdown. There have been some impacts on customers, particularly the trucking sector, and we're working with them to make the change to automation as smooth as possible.
"Multi-cargo operations continue to perform well. Productivity was high during lockdown. Car dwell times fell to a record low of 2.07 days from 2.42 for the previous corresponding period.
"Despite the challenges of Covid-19, we've made excellent progress on key master-plan projects and are well-placed for future growth once New Zealand emerges from the current downturn."
Gibson adds the port was about to run trial shipments through the automated half of its terminal when lockdown was imposed.
"Key staff from overseas vendors" were unable to come to New Zealand when the borders were closed. Parts of the project were delayed as a result and extended it into the busy import season, but automation is going well.
"Because we are automating a live terminal – as opposed to building a new terminal – we are phasing in automation and running a long trial-operations period," says Gibson.
"We are running automated operations in the north of the terminal and manual operations in the south. We've some final pavement upgrades to complete in the south before switching to whole-of-terminal operations.
"Productivity through the automated terminal has been good so far with crane rates reaching 20 container moves per hour – a high rate for this stage of an automation project.
"The greatest significance of this work is the increase in capacity. As a city port, we can't expand further into the harbour but technology lets us grow. We've now got enough room to keep growing to 2050 and beyond."
POAL has also completed construction of its new car-handling building, which increases capacity at is vehicle terminal. Despite Covid-19, it was completed on time and on budget.
Gibson adds: "We have also been granted consent to deepen Auckland's shipping channel, securing New Zealand's vital connection to the world for the next 35 years or more.
"The consent is being appealed, but we hope to start work on it in late 2021. This is important as container lines want to use bigger ships on the Auckland trades, which will lower emissions and reduce costs for consumers.
"We continue to make good progress towards becoming a zero-emission port by 2040. Work has been undertaken on our zero-emissions roadmap. Construction of our world-first electric ship-handling tug has started and is due to be delivered in about 12 months' time.
"Last but not least, I want to thank our people for their hard work and dedication this year.
"While New Zealand was in lockdown our people carried on working making sure goods Kiwis needed continued to flow.
"Even after lockdown, Covid-19 has had an impact as we've been handling changing and unpredictable cargo flows.
"The coming financial year is shaping up to be interesting. Economic activity globally will be subdued for some time, despite hopes a vaccine will be found soon. Despite this, the port is in a strong position to support the rebuild of Auckland's future growth.
"Automation will be fully implemented this year and we look forward to fine-tuning it to get the most out of it. The new capacity will allow us to compete for freight better suited to be transported via Auckland for economic and environmental reasons.
"The port will always be the lowest carbon route into and out of Auckland, and we have real potential to help importers and exporters significantly reduce their carbon footprints.
"With the car-handling building complete, we are another step on our journey to providing more capacity for vehicle handling and opening up more downtown waterfront for public use.
"And with approval to deepen Auckland's shipping channel, we have secured a key supply route and will soon be able to handle larger ships. Our outlook is bright."
For the 2020 and 2021 financial years, the port has agreed with its owner Auckland Council to pay a dividend of 20 per cent of after-tax profits, reduced from 80 per cent, to fund its investment programme. The dividend for the year ending June 2020 was $4.9m.