Bobsleigh team motors on
FRIDAY FUNNY: Jamaican athletes all smiles as they use Mini for training. PLUS – video
Posted on 01 January, 2021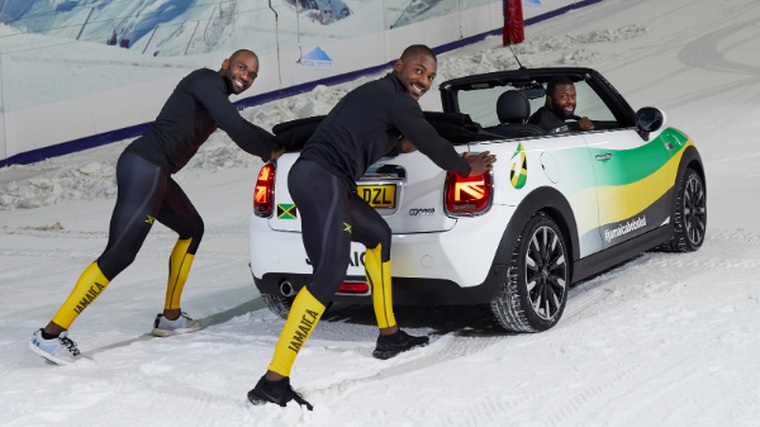 Shoving a Mini uphill, downhill and around the streets of a town is helping the Jamaican bobsleigh team stay on track in their bid to make it to the Beijing Winter Olympics in 2022.
Three male athletes, who are based in the UK, have raised plenty of smiles as they improvise their training regime because of Covid-19 lockdowns.
Two team members kept up their fitness by pushing a Mini Convertible Cooper around Peterborough in the east of England during a lockdown in mid-2020 when gyms were forced to close.
In the most recent lockdown, three of the four-man crew got even more creative and took the vehicle to the UK's largest indoor ski slope at The Snow Centre, Hemel Hemspted.
Shanwayne Stephens, Dy'Neal Fe'ssal and Matthew Wilson decided shoving the vehicle up and down the snowy incline would provide them with some ideal resistance training in cold conditions.
"Pushing the Mini here may seem like a bit of fun but this has been an important exercise," explains Stephens. "Just being on ice is completely different to training in the summer – the toll on your body is entirely different and you use energy in different ways."
Autofile brings you a Friday Funny online every week and we would love to see any entertaining videos, pictures or stories related to all things automotive that you know of or want to share. Email them to editor@autofile.co.nz