Bentley defies Covid with record sales
Marque overcomes lockdown restrictions to meet growing global demand for its luxury vehicles.
Posted on 13 January, 2021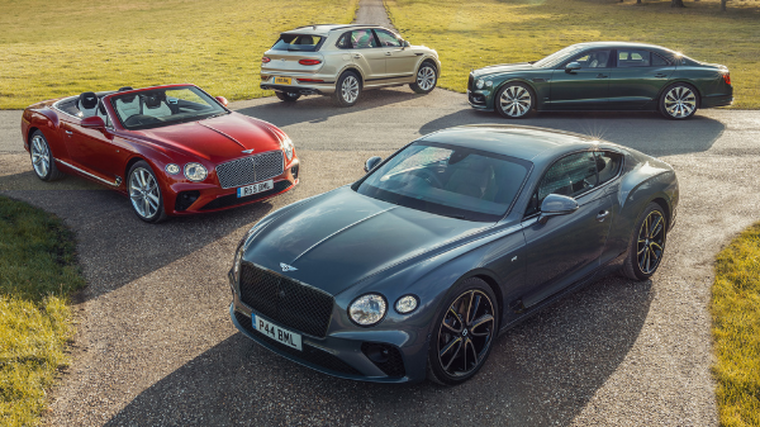 Bentley Motors has announced total global sales of 11,206 in 2020 – an increase of two per cent over 2019.
Although the pre-coronavirus sales forecast was much greater, new models fuelled the achievement, which was the highest sales performance in any of the luxury British marque's 101 years.
Bentley's production was shut down for seven weeks from the start of March and ran at a 50 per cent output for a further nine weeks thereafter as social-distancing measures were introduced.
The Continental GT accounted for 24 per cent of all sales, and the GT Convertible 15 per cent.
Despite the run-out of the previous generation model and delays to market entry of the all-new Bentayga due to the Covid-19 pandemic, the SUV was the biggest-selling single model with 37 per cent.
There were 3,035 Bentleys registered in the Americas last year – up by four per cent on 2,913 in 2019.
Bentley's biggest growth was in China, which saw a sales increase of 48 per cent to 2,880 units from 1,940, while there were 2,193 deliveries in Europe – down from 2,670 in 2019.
The marque's home market in the UK continued its consistent strong performance, recording sales of 1,160 cars. This represented a decrease of 22 per cent over the previous year.
In the Asia-Pacific market, which includes New Zealand, Bentley notched up 1,203 sales in 2020, which was up by six per cent, or 1,139 units, compared to its registrations in 2019. This represented 11 per cent of its global sales
Adrian Hallmark, chief executive, says: "Even though we anticipated greater sales before the pandemic struck, when you consider the level of restrictions around the world for the majority of the year, to achieve a record sales performance is a strong measure of our potential.
"As we look to the year ahead, we remain cautiously optimistic as much remains uncertain."
Luxury hybrid
News of the lift in sales came as Bentley unveiled its updated Bentayga Hybrid, pictured below, the first of two plug-in models being released in 2021.
The latest version of the SUV has a new-look front end with a larger grille, and a repositioned numberplate distinguishes the rear end from its predecessor, which was only launched a year ago.
On the inside, drivers can now use a mostly touch-sensitive infotainment system that replaces the previous button-heavy arrangement.
The powertrain for the Bentayga Hybrid remains unchanged and mates a three-litre twin-turbocharged petrol V6 with a 126bhp electric motor. The vehicle also sticks with a 17.6kWh lithium battery pack that provides an electric-only range of about 50km.