All-new look for flagship SUV
Mitsubishi takes a bold approach to the makeover for its fourth-generation Outlander.
Posted on 18 February, 2021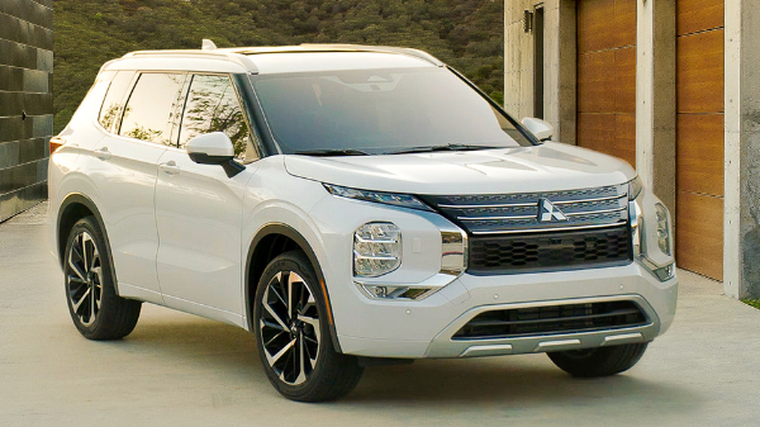 Mitsubishi has pulled the covers off its 2022 Outlander on Amazon in a world-first for a carmaker.
The Japanese marque teamed up with the online retailer for the unveiling of its flagship model that has been "reimagined and reinvented in every way".
A chunkier look and a new engine – with diesel versions dropped altogether – are among the changes for the latest version of the SUV.
The Outlander will be powered by a 2.5-litre, four-cylinder petrol engine, and a plug-in hybrid (PHEV) is due to follow either at the end of this year or in early 2022.
It can deliver 135kW of power and 245Nm of torque, while an eight-speed sport mode CVT is used for the transmission.
Mitsubishi claims the new petrol engine improves maximum output by 8.9 per cent and fuel efficiency (WLTC mode) by 2.6 per cent over the previous model.
The first sales will be in North America from April 2021, with the fourth generation of the Outlander heading down under later this year.
Takao Kato, chief executive officer of Mitsubishi Motors Corporation, says: "Based on the product concept 'I-Fu-Do-Do', which means authentic and majestic in Japanese, the all-new Outlander has been crafted into a reliable SUV with significantly upgraded styling, road performance, and a high-quality feel."
With a design concept of "Bold Stride", the vehicle's front end is bulked up and features slim headlights and a shallower grille than its predecessor. At the rear, horizontal-themed T-shaped taillights emphasise the wide look of the body and stability.
The Outlander is available in nine body colours, including Mitsubishi's high-brightness paints of Red Diamond, White Diamond and Black Diamond.
Inside, the marque has introduced a 12.3-inch digital dash panel and a nine-inch touchscreen infotainment system. Among the extras at the higher spec levels are a 10.8-inch head-up display, more semi-autonomous driver aids and a 10-speaker Bose stereo.
Safety technologies on offer include adaptive cruise control with stop-and-go, lane-keep assist, lane-centring assist, traffic-sign recognition, auto high-beam, forward and reverse autonomous emergency braking, hill descent control and driver attention alert.
In terms of size, the new Outlander is 15mm longer, 51mm wider, 38mm taller and has a 36mm longer wheelbase than the outgoing model. This shift in proportions promises extra legroom and shoulder room for vehicle occupants.