Nicholson family and Kia join forces in Whakatane
Dealership expects SUVs to be a hot ticket as the South Korean marque expands into the Eastern Bay of Plenty.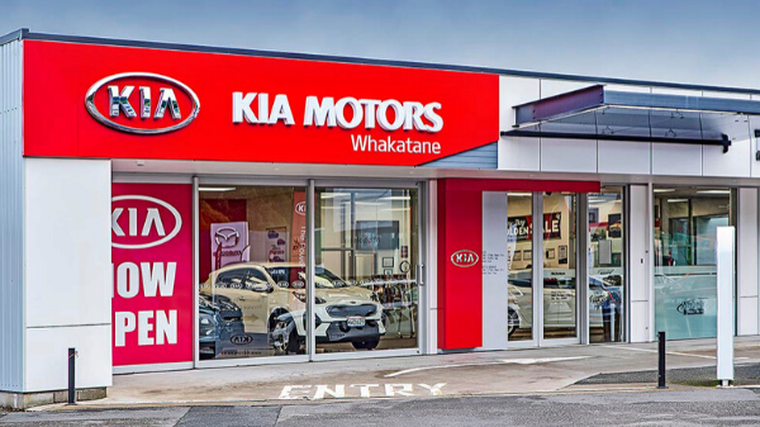 Kia has completed a move into a Whakatane dealership run by the Nicholson family after the Covid-19 pandemic stalled plans for the partnership this year.
Dean Nicholson and his brother, Ross, have welcomed the South Korean marque to their business in the centre of the Eastern Bay of Plenty town.
"Our strategy is to build on the reputation we have in Whakatane to enable our local community to be able to source vehicles in their own town and we're very pleased we can now offer them Kia, as well as being able to support local employment – we will be increasing our numbers slightly in line with the arrival of Kia," says Dean, CEO of Whakatane Kia.
"Kia has become a really strong brand and it complements our business and suits our image. It's a top-quality product that also provides value for money and we know it is going to be very good for the people and businesses of Whakatane and the surrounding districts."
Plans to add Kia to the dealership were interrupted by the coronavirus lockdown but the move has been completed with the country now back to normal operating levels.
Dean says he is impressed with the Kia model range, especially SUVs, for which he expects strong demand from customers.
The change also coincides with the 40th anniversary of the Nicholson family business, which was started by Graham Nicholson, the late father of Dean and Ross, in Morrinsville in 1980 and has grown since.
The Whakatane Kia site at 152 Commerce Street, Whakatane, boasts a multi-vehicle showroom and a service centre that is being upgraded in line with the requirements of Kia Motors.
Todd McDonald, managing director of Kia Motors New Zealand, says pushing the brand into the Eastern Bay of Plenty is an exciting opportunity.
"Dean and his team have greatly impressed us with their extremely professional customer-oriented approach, which reflects the philosophy of Kia Motors," he says. "We are very pleased to welcome the Nicholson team to the Kia Motors family and we look forward to the expansion of our brand in the region."