World's tiniest car makes big impression
FRIDAY FUNNY: Filling up the vehicle with fuel only costs about $13 but its top speed is limited to 37kph. PLUS – video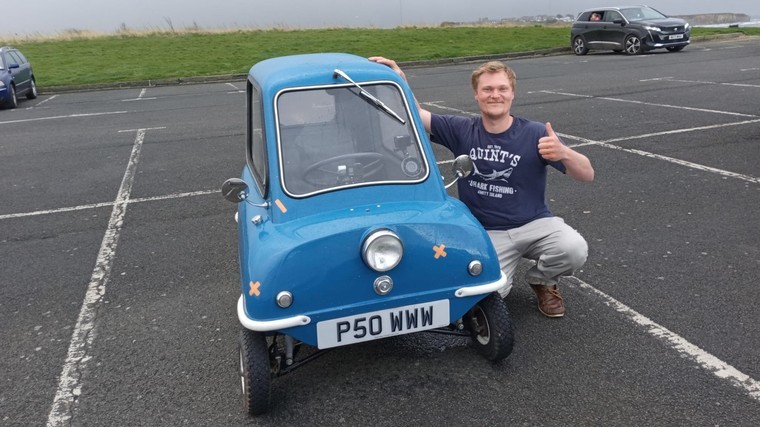 The owner of the world's smallest car is all smiles amid rising fuel prices because his tiny vehicle only costs £7, or about NZ$13, to fill up.
Alex Orchin uses his blue Peel P50 to go about his daily chores in the village where he lives in the UK county of Sussex and says it attracts plenty of laughs and attention from people.
The funny-looking one-seater car is just 134cm long, 98cm wide and 100cm high and has a five-litre petrol tank. It gets through about 2.4L of fuel per 100km.
Orchin bought the three-wheeler, which is officially the world's smallest passenger car and has a top speed of 37kph, in 2018.
"I've been using it and enjoying it and it's just been the most hilarious car, it gets a lot of attention," he says.
"I can fit a shopping bag down the left of the car by the handbrake, but nothing else."
Orchin, who is 180cm tall, says common questions include how does he get in it and can he drive it on motorways. Last year he drove the car the length of the UK and raised £11,000 for charity in the process.
Autofile will be bringing you a Friday Funny online every week and we would love to see any entertaining videos, pictures or stories related to all things automotive that you know of or want to share. Email them to editor@autofile.co.nz.