Whipped into 'towing' party line?
FRIDAY FUNNY: Public poke fun at MP as he auctions old banger. PLUS – video
Posted on 24 September, 2021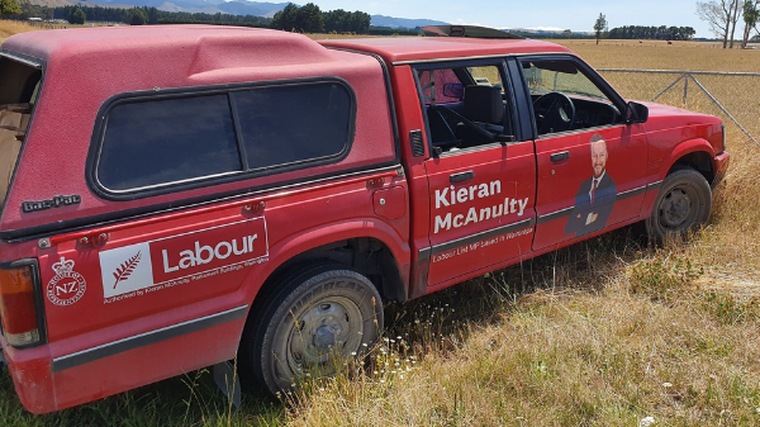 It looks like Labour's chief whip may have – err, dare we say it – taken to some self-flagellation by offloading the battered ute he's been driving for 15 years and going green.
Or perhaps Prime Minister Jacinda Ardern has told Kieran McAnulty to "tow" the party line after he took her for a spin on the 2020 campaign trail to show off his 1997 Mazda B2500.
Whatever the back story is, the Wairarapa MP is now calling time selling his ute on Trade Me with proceeds going to rural mental-health charities.
A concerned, perhaps erstwhile, member of the automotive industry tipped off Autofile Online to the shenanigans, lamenting: "This ute's got 473,000km on the clock and doesn't even have a back window.
"The listing says the heater only works at setting three, the speedo isn't entirely accurate, it's very slow uphill and it smokes out the back at times.
"Call it what you like. But this clunker should really be at the Crash Palace. And it had an opening bid of $2,000. As Darryl, from the great Aussie classic film The Castle, would say, 'you're dreaming mate'."
To replace the B2500, McAnulty has bought a 2021 Mitsubishi Outlander PHEV, which he estimates will produce only 10 per cent of the emissions of his old banger.
He took advantage of his own party's clean car discount policy, ironically nicknamed the ute tax, to seal the deal.
The MP quips: "I've never owned a new car before and never had one with air-conditioning. It gets pretty hot in Wairarapa in the summer. I used to have to drive around with spare ironed shirts in the back to change into before meetings."
The 36-year-old adds the B2500 struggles to get past 80kph and, with an expansive electorate, it was becoming impractical.
To wrap it all up, here are some of the comments on McAnulty's Twitter post and Trade Me listing. "Feel like it should undergo some ethical destruction and burial after its sold." "Looks good. but too Labour intensive for me." "Hi, is this eligible for the clean car discount?" "Did Jacinda pressure you to sell?"
Autofile will be bringing you a Friday Funny online every week and we would love to see any entertaining videos, pictures or stories related to all things automotive that you know of or want to share. Email them to editor@autofile.co.nz