Top field for Toyota 86
Championship boasts record level of entrants from variety of backgrounds.
Posted on 17 November, 2023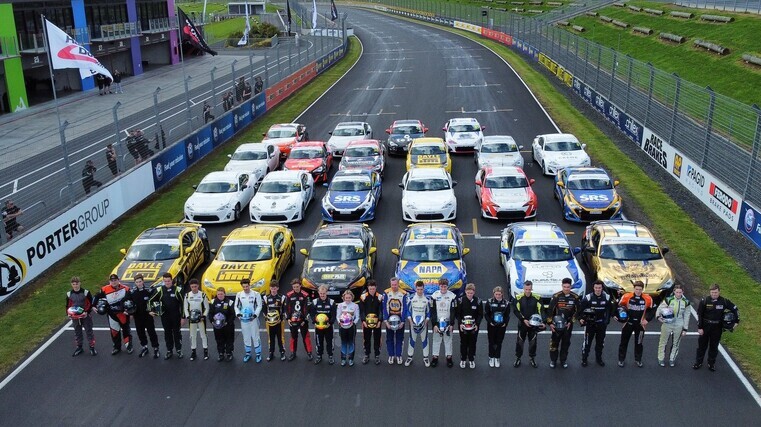 Photo: Bruce Jenkins
A record number of drivers are taking to the track for what could be the most fiercely contested Toyota 86 Championship since its inaugural season in 2013.
The 24-car field that begins the season in Taupo includes multiple championship prospects, outstanding rookies, our exceptional female drivers, three drivers from Australia and a bigger master class.
"The grid includes champions from karting, Formula Ford, the Australian Toyota 86 series, New Zealand club racing and even SIM racing," says category manager Amanda Tollemache. "It's really one of the highest quality fields that has been assembled for the championship, as well as the biggest."
Picking a winner, however, is almost impossible. Consistency has always been king in the championship and being at the sharp end of the field in every session has always served drivers well.
Last season Clay Osborne trailed champion Brock Gilchrist on wins, but maintained a high enough finishing record to be in with a shout of the title until the last lap of the final race.
"Being the outright fastest and winning races is certainly important in this championship, but being consistent is absolutely essential," according to two-time champion Rowan Shepherd, who is also driving standards observer again for this year's events.
"To be that consistent means you need speed, race craft and a great team around you. You need to deliver in every session, in all conditions. You can't afford any drama on-track that might put you out of the points or, even worse, out of the weekend."
From the New Zealand contingent in the entry list there are obvious candidates who are likely to shine. Multiple race winner Justin Allen is one as is Hunter Robb who was hugely impressive in his two outings in last year's championship.
Tayler Bryant is another ready for a big campaign and Formula Ford champion Hayden Bakkerus and improved production champion Ryan Denize are also determined to do well.
Talent from across the Tasman this season is also of a high standard. Toyota 86 scholarship champion Lockie Bloxsom has proven his ability while Alice Buckley has also won in that championship.
John Penny and Christina Orr-West won't be satisfied with just strong performances in the master class. Add in last season's runner-up rookie Tom Bewley, Hampton Downs Academy winner Jackson Rooney, Bree Morris, Thomas Mallard and Cormac Murphy as genuine dark horses and the scene is set for a great season.
Diary dates
Round 1, November 17-19 – Taupo International Motorsport Park. Round 2, January 26-28 – Manfeild, Circuit Chris Amon. Round 3, February 9-11 – Euromarque Motorsport Park, Christchurch. Round 4, February 16-18 – Highlands Motorsport Park, NZ Grand Prix. Round 5, March 15-17 – Hampton Downs Motorsport Park. Round 6 – TBC.