Targa targets prostate cancer
Posted on 10 October, 2017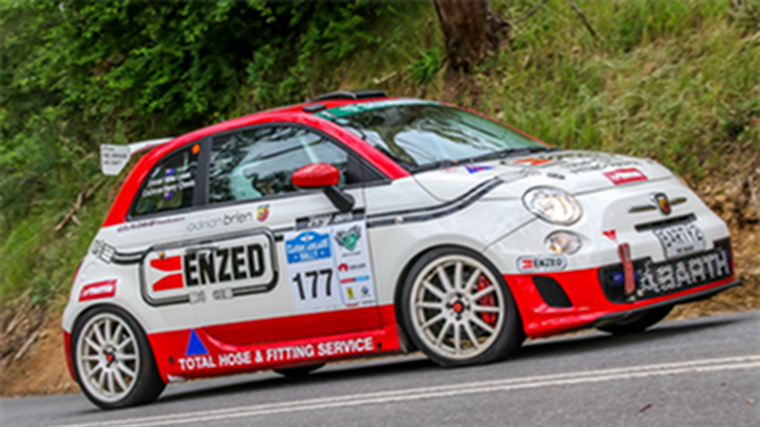 Team ENZED Abarth has competed for more than 23 years in tarmac rallies in New Zealand, never missing a Targa NZ event until last year. "I was diagnosed with Prostate Cancer," says team owner Mike Lowe. "But thankfully due to my regular blood tests for PSA, it was discovered early. This allowed for immediate intervention and now I can happily say I am cancer-free." Lowe has volunteered as the Prostate Cancer Foundation of New Zealand brand ambassador for this year's Targa event. He will be advocating to the predominantly male Targa competitors to "Get Checked". According to the Ministry of Health, prostate cancer is the most common cancer in New Zealand men. Some prostate cancers are slow growing and will never cause problems. Others grow quickly and cause serious symptoms or death. If caught early, prostate cancer can be managed well and can usually be cured. "As competitors we regularly check our car's oil, tyres and so forth. It is logical therefore that we should also check ourselves." Team ENZED Abarth are running their works-built Fiat Abarth 500 Assetto Corse Rallye. The car is unique in the Southern Hemisphere, one of only 49 built by the Abarth factory in Turin. The chief executive of the Prostate Cancer Foundation of NZ, Graeme Woodside says his foundation appreciates the support. "He is a living example of why men should get checked – when diagnosed early the disease can be effectively treated, as Mike has experienced. Prostate cancer is the number one cancer in Kiwi men and the message is clear - early diagnosis saves lives." They have a single aim: "Just finishing a tarmac rally is a major achievement, and as the only team to have started and finished all events we have entered since 1995, Team ENZED Abarth want to keep that record intact." This year sees Targa runs from Auckland to Wellington over five days of competition, with 640km of closed-road Special Stages and 1170km of touring. Commencing at Hampton Downs Motorsport Park on Tuesday, October 24, the route traverses the North Island with overnight stops are Hamilton, New Plymouth and Palmerston North with the finish on the Wellington waterfront. More information on prostate cancer checks, tests and treatment is available from:
your doctor or health service
the Cancer Society of New Zealand Information Service (Freephone 0800 226 237)
the Prostate Cancer Foundation of New Zealand (Freephone 0800 477 678).
Useful websites include: