SUV scores five stars on safety
Experts praise marque for prioritising the safety of vehicle occupants and other road users. PLUS – video
Posted on 21 January, 2022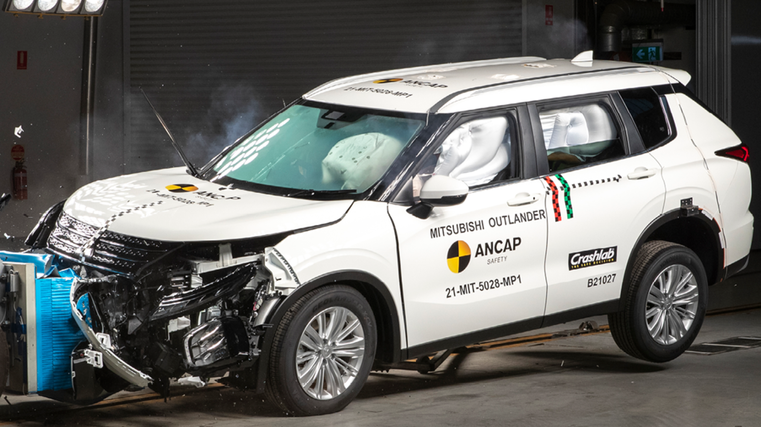 All 2.5-litre petrol variants of the Mitsubishi Outlander have been awarded a five-star safety rating after ANCAP praised the model's "excellent safety package".
Following recent testing, Australasia's independent voice on vehicle safety says the Outlander met the required thresholds across all four key areas of assessment.
ANCAP notes the SUV performed well in adult occupant protection tests, with full marks awarded in the side impact and oblique pole tests.
It adds protection offered in the frontal offset and full width tests showed mostly adequate to good results, with some marginal readings recorded.
The Outlander is fitted with a centre airbag, designed to reduce occupant-to-occupant injury in side-impact crashes, but failed to meet ANCAP's coverage requirements, and a penalty was applied.
For child occupant protection, the vehicle recorded 92 per cent, which is the highest score awarded so far under ANCAP's 2020-2022 protocols. Full points were awarded for the protection offered to child occupants in both dynamic tests, with high scores achieved in the other areas of this assessment.
Carla Hoorweg, ANCAP chief executive officer, says: "The new Outlander offers an excellent safety package and is a comprehensive offering.
"Mitsubishi have clearly prioritised the safety of both vehicle occupants and other road users in the new Outlander and should be applauded for this five-star result."
The Outlander notched a record score of 81 per cent for the medium SUV category in ANCAP's vulnerable road user assessment and received full points for its lane support system.
For full details on the performance of the Mitsubishi Outlander, click here.