SUV gets futuristic redesign
Boxy crossover unrecognisable with longer wheelbase and gains extra space.
Posted on 18 August, 2023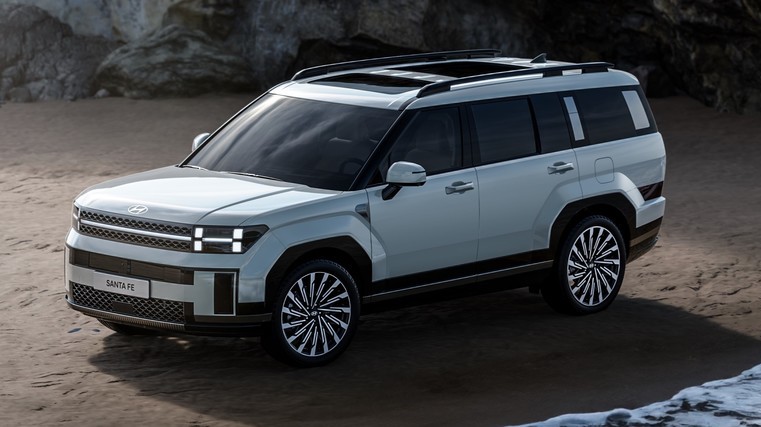 Hyundai has revealed a radically transformed Santa Fe. The fifth-generation large SUV carries forward its signature appeal while bringing in major updates.
For its first full model change since 2018, the marque has taken an unconventional approach to maximise rear-cargo capacity, and better accommodate outdoor and urban activities.
As a result, the powerful new model boasts a robust yet delicately detailed exterior design and versatile interior that flows from the openness of its enlarged tailgate.
"The all-new Santa Fe is an SUV that finds a perfect balance between city life and the outdoors, handling everything from family itineraries to camping adventures," says SangYup Lee, executive vice-president and head of Hyundai's global design centre.
"With its longer wheelbase, roomy interior and terrace-like tailgate space, it leans into its SUV strengths to offer more versatility than ever."
The front of the vehicle has a strong look with a high hood, H-shaped headlamps and bold fenders. The headlamps reinterpret Hyundai's "H" emblem.
Seen from the side, the lengthened wheelbase accommodates a bold roofline and large roof rack to strengthen its off-road credentials, defined wheel arches, shortened front overhang and 21-inch wheels for an adventurous look. Defined by its larger tailgate, the rear end is simpler and balances the exterior design.
While the current Santa Fe is available only in a two-row configuration, Hyundai is offering a third row of seats in the new version. The second-row seats fold flat into the floor.
The interior looks luxurious, and boasts nappa leather, dual 12.3-inch screens and two wireless charging pads in the centre console. The design emphasises horizontal and vertical lines, with an H-motif design applied to the dashboard and air vents.
Offering a luxury feel, the interior boasts a panoramic curved display and dual wireless charging plus infotainment system. In addition, brightly coloured seats and headliner create a sense of space, while the soft-touch wood-patterned panels and nappa leather seats with delicate embroidery add style.
The new SUV incorporates sustainable materials. The suede headliner, car mats, and second and third-row seatbacks are made from recycled plastic, while the crash pad and door-trim covers are made from eco-friendly leatherette.
The price of model-year 2024 Hyundai Santa FE SE is expected to be around NZ$57,000 when it arrives in New Zealand.