Recalls across Kiwi fleet
Keep up to date with vehicle recalls issued in New Zealand – and not just those with Takata airbags.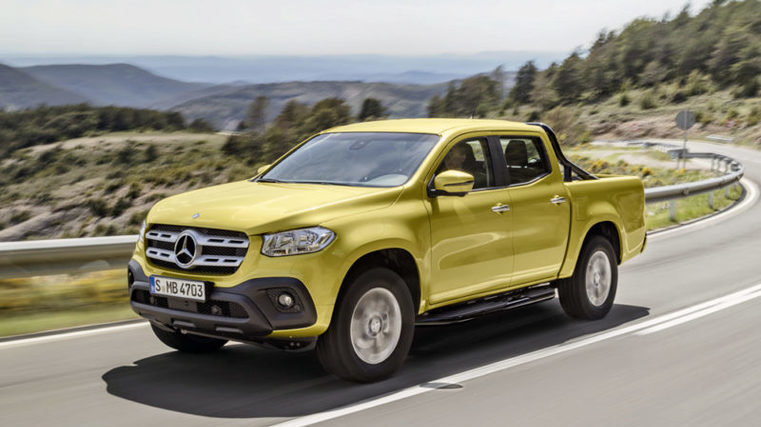 Autofile Online is keeping the industry up to date with call-backs in the passenger and light-commercial segments. Below are some recent recalls.
The Mercedes-Benz GT, model years 2017-18, is being called back because "it's possible a seatbelt may jam in the seatbelt guide loop". The recall was posted online on July 9, 2018, as well as two others for the marque.
The model year 2018 X-Class, pictured above, has been recalled because of a software error in the tyre-pressure monitoring system. The hazard with the C-Class, model year 2017, is "the laser welding between the backrest member and backrest fitting may not comply with the internal specification in the driver and front-passenger seats". Owners of all three models should contact their Mercedes-Benz service outlet.
Nissan Patrol, model years 2014-17
Recall online: July 9, 2018.
The hazard: A potential concern affecting genuine alloy wheels has been identified that, depending on a specific manufacturing date range, may exhibit minor cracks in the alloy.
What to do: Owners of affected vehicles will be contacted by mail and advised to contact a Nissan dealer to arrange for the alloys to be inspected and replaced for free if necessary.
Nissan Navara, model years 2015-17
Recall online: July 9, 2018.
The hazard: Due to insufficient bolt torque, the nudge-bar roll-hoop fixing bolts may come loose causing the hoop to rattle and, in rare instances, may detach from the vehicle while it is being driven. This can cause an accident or injury to pedestrians or others.
What to do: If the ute has been fitted with a Nissan genuine nudge bar before June 2018, contact a Nissan dealer and arrange for a rework.
Subaru Legacy & Outback, model year 2010
Recall online: July 9, 2018.
The hazard: Subaru of NZ has been advised by Fuji Heavy Industries, which makes Subarus, that certain 2010 Legacys and Outbacks may experience an oil leak from the continuously variable transmission oil-cooler hose. A leak of this nature is considered a safety risk and Subaru NZ will conduct a safety-related recall.
What to do: Contact a Subaru-authorised dealer for the recall to be carried out.
Subaru Forester, Impreza, Legacy, Outback, WRX, model years 2007-14
Recall online: July 9, 2018.
The hazard: Certain vehicles fitted with a secondary air-injection system may fail due to a faulty relay and, in a worst-case scenario, the air pump will run continuously. Subsequently, the pump can overheat and partially melt causing odour or smoke and – in extreme circumstances – may pose the risk of fire. Subaru of NZ has decided to carry out a safety recall.
Subaru Outback, model year 2001
Recall online: July 9, 2018.
The hazard: Some 2001 Subaru Outback H6s may experience irregular VDC operation in specific conditions when towing a trailer, so the marque has issued a safety recall.
Custom-Fit seat covers
Recall updated online: July 6, 2018. The hazard: The side panel of the seat cover may not come apart in order to allow the airbag to deploy correctly. If the airbag doesn't deploy correctly, occupants may not be protected in an accident.
What to do: Stop using the cover and contact Griffiths Equipment for a replacement.
Subaru Tribeca, model years 2008-09
Recall online: June 26, 2018.
The hazard: The VDC G sensor in the model year 2008-09 Tribeca may have been incorrectly installed in the wrong direction potentially causing incorrect operation. It's possible for the VDC system to malfunction, causing the vehicle to become unstable. This may ultimately lead to a loss of driver control.
What to do: Contact a Subaru dealer to arrange an appointment to have the recall carried out.
Kia Sorento, model years 2017-18
Recall online: June 24, 2018
The hazard: When the engine is restarted more than four times by idle, stop and go, the daytime running lights may intermittently turn off. There's a smart junction box software upgrade available to allow the current value for these lights to be changed.
What to do: Take the vehicle to a dealer to have the work done.
For more information on recalls, visit https://www.recalls.govt.nz/ while https://www.recalls.govt.nz/alert/takata-airbag-recall-information has further details about the Takata airbags subject to call back.