Port hit by supply chain problems
Disruptions to global shipping services and staff shortages caused by Covid-19 impact on trade.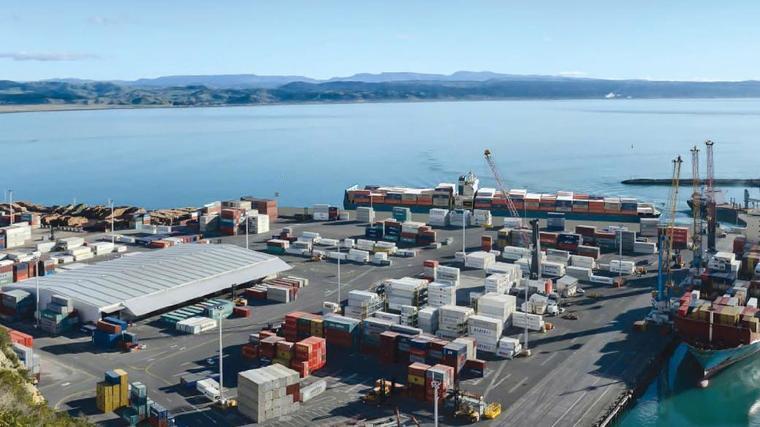 Napier Port has lowered its full-year profit expectations amid cargo volumes and associated income tumbling during its first half.
The NZX-listed company reports its bulk-cargo volumes and container imports declined by by 8.7 per cent and 16.6 per cent respectively in the six months to March 31.
The port, an important trans-shipment stop for vehicles, expects to report a first-half operating result of about $16.4 million. That's down on the $21.3m in the previous comparable period.
It adds the drop in volumes has resulted from worsening supply-chain disruptions and pandemic-related worker shortages.
It also lowered its operating profit guidance for the 12 months ending September 30 to $38m-$42m, less than the previously forecast increase of around 10 per cent on the $43.8m achieved in 2021.
Chief executive Todd Dawson says: "There has been an escalation in regional and global container schedule disruption, and we continue to work with vessel omissions, delays and inconsistent schedules across fewer vessel calls.
"This has been accompanied by larger container exchanges for the port and cargo owners to manage."
Dawson adds omicron outbreaks and pandemic-related port lockdowns in China have placed extra pressure on global supply chains and flow-on effects to shipping reliability into New Zealand.
Containerised imports for the half-year decreased by 16.6 per cent from 65,000 TEUs to 54,000 TEUs as empty volumes were 22.6 per cent below the same period last year due to container equipment shortages, while dry imports increased by 2.3 per cent.
Other container movements for the period decreased by 48.6 per cent from 11,000 TEUs to 6,000 TEUs due to decreased transhipment and restow activity.
Container vessel calls totalled 102, down from 133 calls in the prior year. The reconfigured Maersk OC1 Trident service ceased calling at Napier Port during the first quarter, while the ZIM Integrated Shipping Service's trans-Tasman service commenced calling there from January.
Total bulk-cargo volume, compared to the same periods a year ago, decreased by 21.3 per cent for the second quarter to 0.72 million tonnes, and 8.7 per cent for the half-year to 1.71m.