New dealership prepares for opening
Armstrong's provides special guests with a glimpse inside what will be its 31st brand location nationwide.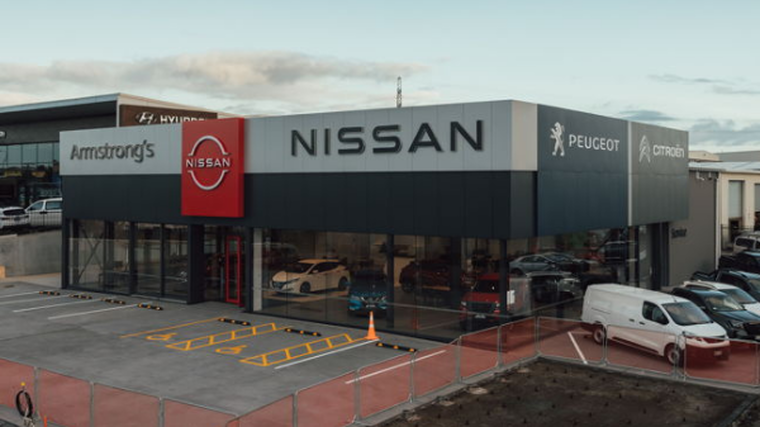 A new dealership holding franchises for Peugeot, Citroen and Nissan is just days away from opening its doors to the public in Auckland.
Armstrong's East Auckland will occupy a purpose-built facility on Ti Rakau Drive, Botany, with the finishing touches being applied to the building before it officially opens on June 26, 2021.
Industry guests were given a sneak peek of the showroom and service centre on June 9 by Sean Parrey, dealer principal for the new site, as the company plans further expansion to its network.
Rick Armstrong, managing director of Armstrong's, says: "There's something quite exciting about building a dealership from the ground up, there's a huge amount of work involved but when everything falls in place it's incredibly satisfying.
"Now that the building is almost open, we can start preparing for what we know will become a destination centre for east Auckland residents, especially passionate enthusiasts who are interested in Peugeot, Citroen and Nissan.
"It is also an important development from an Armstrong's perspective, as it reinforces the group's vision of the best people, best locations and best brands."
Armstrong notes the Botany dealership is a key part of the company's growth strategy and is a precursor to other developments at sites across the country.
The company represents 16 marques and the new dealership is its 31st brand location.
"Botany is an area which is experiencing rapid growth, so it's vital we have a presence here across a number of brands, to help cater for a variety of different automotive tastes," he explains.
One of the features of the new dealership, and one of only two similar operations in the country, is the Armstrong's AutoBody facility.
Aaron Hodge, general manager of Armstrong's Autobody, explains these are specialised panel and paint restoration workshops designed to cater for the needs of electric and plug-in hybrid vehicles.
He adds: "One of the considerations associated with modern vehicles is their lightweight construction and the type of materials used to manufacture them, so it's vitally important to ensure that they are looked after with the utmost care to ensure they are repaired in accordance with stringent specification levels."
Rick Armstrong, left, managing director, and Sean Parrey, dealer principal, at Armstrong's East Auckland.