MPI praised for stink-bug action
Shipping company Armacup has applauded the government's first step to ensure importers are aware of biosecurity risks in cargo from China and Korea.
Posted on 23 November, 2018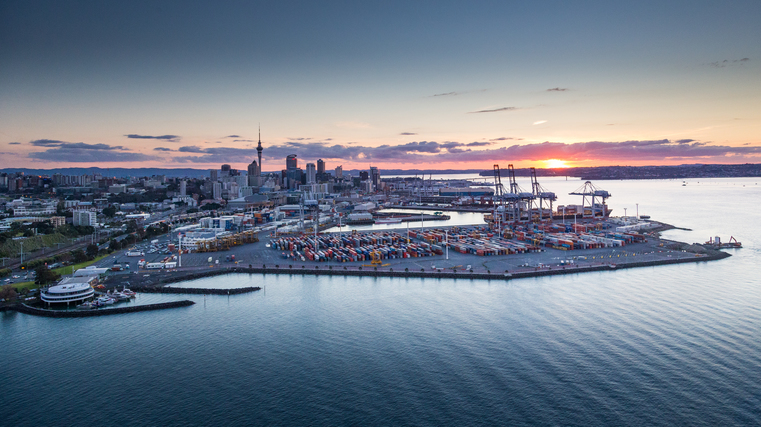 A shipping company has applauded the first step taken by the Ministry for Primary Industries (MPI) to ensure cargo owners are aware of risks for cargoes from China and Korea.
The advisory to industry was issued by the government on November 20 and included importers obligations towards ensuring cargoes are loaded free of biosecurity threats, such as stink bugs.
In a statement to customers, Armacup said: "We once again urge all importers to ensure cargoes are free of regulated pests at time of loading to comply with local import requirements, but also with Armacup's clean cargo policy.
"Armacup is working hard on ensuring treatment facilities are put in place in China to assist exporters with the aim to recommence servicing Shanghai and Tianjin ports as soon as possible. We're also encouraging exporters/importers to establish their own systems and we recommend to work with the DAWR and/or MPI in ensuring their systems and processes are adequate to meet requirements."
Some stink bugs were found on-board Armacup's Triumph Brisbane while it was en-route to Auckland via other Australian – as reported in the November 2018 issue of Autofile magazine.
The ship had been loaded with new vehicles in China and South Korea. It then received used and new vehicles at Japanese ports. All cargo taken on in Japan had been heat-treated or had gone through MPI approved pathways in that country before being taken on-board.
However, Armacup pointed out neither the Department of Agriculture and Water Resources (DAWR) in Australia nor the MPI had mandatory measures in place for cargo from China and South Korea, while the DAWR also had no statutory requirements for cargo from Japan.
The shipping company reports the DAWR has finally approved a controlled discharge plan for the Triumph in Port Kembla. However, the ability to do is subject to passing an on-board reinspection by DAWR officers anchorage off Brisbane.
If the DAWR is satisfied with the findings, the ship will proceed to Port Kembla for controlled discharge. This will involve every cargo unit being heat-treated under DAWR supervision and could take seven to 10 days to complete. If DAWR is unsatisfied with the findings, the vessel will be ordered to leave Australian territorial waters and all cargo require to be "exported" from Australia.
Meanwhile, Armacup's Lake Como remains off Japan's coast of Japan awaiting developments with the Triumph. And the Carrera was discharged in Auckland without any issues and is en-route to Suva before completing discharge in Brisbane.
MPI advisory to Industry
Advice to shippers, exporters and importers of new and used vehicles and machinery from China and Korea.
At this stage, New Zealand does not have specific brown marmorated stink bug (BMSB) measures in place for vehicles and machinery from China and Korea.
However, the MPI is monitoring vessels reporting detections of BMSB and other pests that are carrying vehicles and machinery from China and Korea.
The MPI would like to remind exporters and importers that the import health standard (IHS) requires all vehicles, machinery and equipment to be clean internally and externally and be free of pests before being imported into New Zealand. This includes being free of regulated pests such as BMSB from all countries, including China and Korea.
The MPI is also aware some shipping lines are only loading cargos with evidence they are as free as possible of BMSB to ensure they will not encounter significant delays or be denied discharge in New Zealand.
While the MPI has not regulated this pathway at this stage, any actions taken to reduce the likelihood of contamination helps to ensure vehicles and machinery arrive in a compliant state. The MPI is supportive of this approach to ensure vehicles and machinery are free of contamination prior to loading.
Since the beginning of the 2018/2019 BMSB risk season (September 1 – April 30), the MPI has been closely monitoring all known and potential pathways that BMSB, other stink bugs and regulated pests may be present on.
The risk is constantly evolving. Given the detections of BMSB on vehicles and machinery from China and Korea, the MPI is recommending vehicle and machinery exporters take a proactive approach to reduce the likelihood of BMSB in vehicles and machinery. The MPI recommends exporters consider the following:
- Alert all those who work with vehicles and machinery for export to look for biosecurity contamination – including BMSB, other stink bugs and regulated pests – and what that may look like. https://www.mpi.govt.nz/importing/other/vehicles-and-machinery/
- Closely monitor for the presence of regulated pests in and around facilities, particularly outdoor vehicle and machinery storage areas.
- Use pest controls to reduce any potential presence of BMSB (other stink bugs and regulated pests) around or in your facility.
- Inspect vehicles regularly and in particular on the day of loading. If contaminated, treat before shipping. Do not ship contaminated vehicles without appropriate treatment.
- Where possible store vehicles and machinery indoors after inspection.
- If your vehicles may be contaminated, consider treatment with an MPI-approved treatment. If you are unsure, it's best to treat before shipping.
Current border actions
The MPI risk assesses every vessel that arrives in New Zealand. Each case of non-compliance is assessed individually and any border actions are the minimum needed to manage the risk of that case.
Should live BMSB or other regulated pests be detected onboard, the MPI will further investigate the risk the detection presents before implementing actions. While the MPI cannot provide generic border actions for the detection of BMSB, and other stink bugs or regulated pests, there are limited border actions available to manage the risk of BMSB on large vessels.
These include, but are not limited to:
- Partial discharge if there are sealed decks and this depends on the location of the live regulated pest.
- The MPI monitored and managed systematic discharge to ensure only low risk or non-contaminated cargos are discharged.
- Denial to discharge some or all of the cargo.
The MPI will continue to closely monitor for the presence of regulated pests on vessels carrying break-bulk vehicles and machinery from China and Korea. At the close of the 2018/19 BMSB risk season, the MPI will review its risk-mitigation measures for BMSB and adjust them to appropriately manage any change in risk of BMSB on vehicles and machinery from China and Korea.
Should there be sufficient change in risk or presence of BMSB or other regulated pests associated with vehicles and machinery from China and Korea during the 2018/19 season, the MPI will implement urgent changes to importation requirements of the IHS to appropriately manage this risk.
Peak finds in the past have been at the end of December through to February, which required urgent measures to be applied at short notice. The MPI is working with the Australian Department of Agriculture and Water Resources.
The MPI appreciates potential difficulties and uncertainty the industry faces as a result of the recent events. While the MPI is not in the position to provide any further certainty, it will provide as much advice and guidance as possible to the industry from China and Korea and shipping lines. It will update the industry of any changes in risk or importation procedures as they come to hand.