Matilda Rice joins Subaru NZ
Social media personality Matilda Rice is the latest member to join Subaru New Zealand as a brand ambassador.
Posted on 29 October, 2018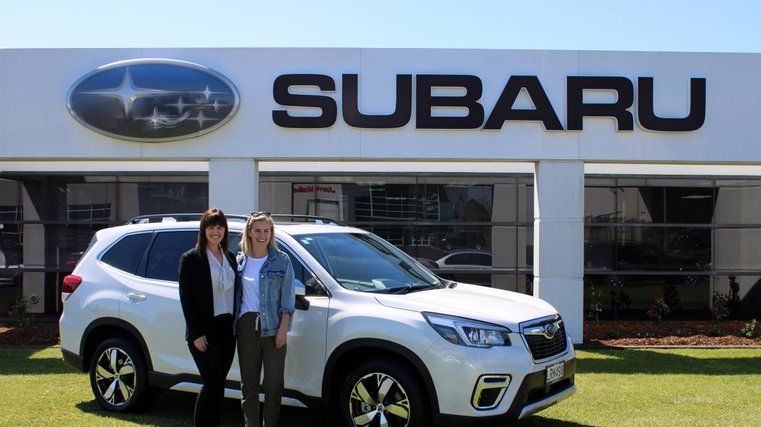 Prominent social media personality Matilda Rice is the latest member to join the Subaru team as a brand ambassador in New Zealand and she couldn't be happier to be part of the car brand that aligns perfectly with her active, adventurous lifestyle.
Rice shot to fame in New Zealand through her appearance on The Bachelor NZ in 2015, where she turned into a household name overnight after her and Art Green became an item.
Her down to earth and relatable personality has attracted hundreds of thousands of followers across her social media platforms, who enjoy her posts documenting her healthy, fun, balanced way of living and of course life with her fiancé Art.
"I feel like Subarus are the cars for Kiwis, who get outdoors. That's what really spoke to me and is why I was keen to get on board. Also, Art drives a Subaru Levorg which makes driving long distance so enjoyable – I wanted that too!," said Rice.
Subaru of New Zealand marketing manager Daile Stephens says that Rice is a great fit for the Subaru brand.
"We believe Matilda (and of course Art, who became a Subaru brand ambassador two years ago) embody our philosophy. We are pleased to have Matilda join the Subaru family for both her day-to-day duties and her adventures further afield."
Subaru of New Zealand recently launched the fifth-generation 2019 Subaru Forester SUV, which Matilda is now driving.
"My girlfriends and I have already done a road-trip to Piha in my Subaru – the girls loved it! I can really feel the all-wheel-drive working, as even on the windy, narrow roads the Forester absolutely nailed it. We felt so safe and comfortable and had such an amazing day," said Rice.
When asked what else she loved about her Subaru, it was hard for Rice to choose just one of the many features.
"The facial recognition technology has to be one of my favourite features. My Forester instantly identifies me when I get in it - after Art has been driving it and has changed all my settings. Within seconds my seat, mirrors and air-con are back to just how I like it."
The class-leading driver monitoring system (DMS), uses facial recognition technology to personalise Matilda's driving experience. It can save up to five drivers' preferred settings and automatically adjusts them when the driver steps into the vehicle if they have been changed.
It also has two safety features – giving both audible and visual warnings if the driver is distracted and has their eyes off the road, or if they are dozing off.
Matilda will be seen out and about in the Subaru Forester in Auckland, where she and Art live, and also all around New Zealand when they are on their travel adventures.