Marque's new BEV takes bow
Hyundai premieres the Ioniq 6 with production of the vehicle set to start in the third quarter of this year.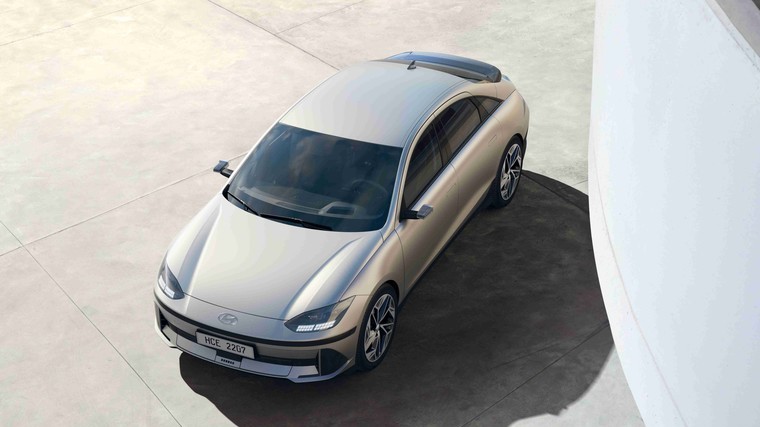 Hyundai has launched its Ioniq 6 Electrified Streamliner, describing the new model as the next step in the marque's strategy to accelerate its transition to electrification and into a position as a global leader in electric vehicles (EVs).
The Ioniq 6 delivers an estimated all-electric range of more than 610km according to the Worldwide Harmonised Light Vehicle Test Procedure (WLTP) standard, as well as ultra-fast, 400V/800V multi-charging capability.
Hyundai also claims the car, built on a 2,950mm wheelbase and supported by a choice of 20-inch or 18-inch wheels, may be its most aerodynamic vehicle to date
The interior can be customised through dual-colour ambient lighting, which allows a driver to select from 64 colours and six pre-selected themes, while a speed sync lighting mode changes the brightness of the interior in the first row based on the vehicle's speed.
A range of drive motors and battery packs is available, with the long-range 77.4kWh battery able to be mated with two electric motor layouts, either rear-wheel-drive (RWD) or all-wheel-drive (AWD).
The top-of-the-line dual motor setup is an AWD option producing a combined power output of 239kW and 605Nm of torque, which delivers acceleration of 0-100kph in 5.1 seconds.
Like the Ioniq 5, the new car also has a vehicle-to-load (V2L) function that allows customers to charge any electric devices.
A modular touchscreen dashboard integrates a 12-inch full-touch infotainment display and 12-inch digital cluster, and the IONIQ 6's infotainment system can help search and plan the best route to include a charging station along the way.
Safety technology features include forward collision-avoidance assist and Highway Driving Assist 2, which helps maintain a set distance and speed from the vehicle ahead when driving on a highway and it also helps to centre the vehicle in the lane.
The SEL and Limited trims include enhanced functions such as junction crossing, lane-changing oncoming and lane-changing side along with evasive steering assist.
The Ioniq 6 is Hyundai's first model to offer the Over-the-Air (OTA) Software Update feature for various controllers. This technology allows drivers to upgrade the vehicle's controllers for electric devices, autonomous driving, battery, and more.
A selection of 12 exterior colours is on offer and there are four interior colour options – dark grey with light grey, dark olive green with light grey, black with pale brown and black.
Production of the car is set to start in the third quarter of 2022 with a date for market launch to be announced later.