Mainfreight hits record $3.5b revenue
Company warns strains on capacity and the supply chain show no sign of easing yet.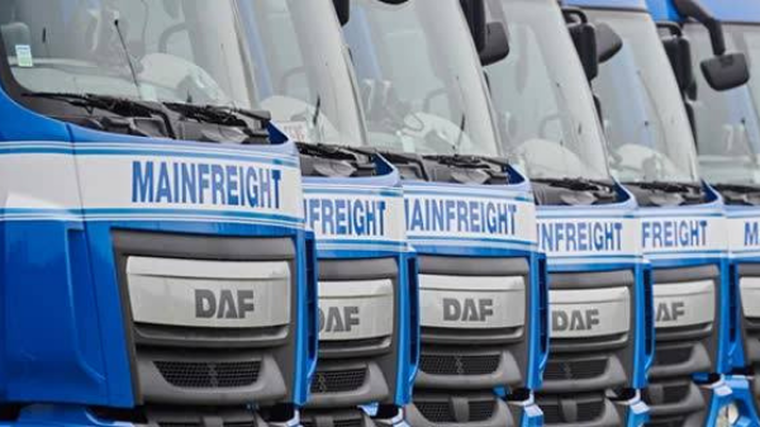 Mainfreight has pulled in record revenue of $3.5 billion in the year to March 31, 2021, an increase of 14.5 per cent on the previous year.
Net profit before tax (NPBT) climbed 27.2 per cent – or $56.2 million – to $262.4m over the same period.
The company says in an announcement to the NZX it is pleased with the annual result, particularly after weekly revenues plunged by 40 per cent during lockdown in April 2020.
Despite the disruption of Covid-19, freight volumes bounced back and sales revenue at Mainfreight's New Zealand division increased by $92.6m – or 12.3 per cent – to $845.6m in the 2021 financial year.
Its NPBT also grew over the same period to $97.8m, which was up $10.1m, or 11.5 per cent, from a year ago.
Mainfreight says the transport network has come under increasing pressure as the demand for freight has grown post-lockdown, with pre-Christmas volumes hitting record levels.
It notes capacity constraints are driving a new development in West Auckland and extensions at its Kaitaia and Whangarei sites.
Plans to increase warehousing capacity will also be bolstered by projects in Auckland and plans to purchase sites in Nelson, Hastings, Cambridge and Wellington.
The company told the market on May 26 that supply chain capacity into and from New Zealand, and internally, remains congested.
"We are frustrated with the international shipping lines, and working hard to secure more space and improve services for our customers," it adds. "We expect the international congestion and increased rate levels to last for some time to come."
Looking ahead
Mainfreight says its business model has been "resilient and effective" during a tumultuous time but cautions that uncertainty remains.
"We are by no means satisfied with where we have landed at the end of this past year. Service levels need to improve, and with heavily congested supply chains affecting the world's freight lanes, we have much to achieve on behalf of our customers.
"It is our view that the heavily inflated shipping and air cargo rates will continue to be a feature of global trade while freight demand is exceeding air and sea capacity."
Activity levels in the first seven weeks of trading in the 2022 financial year have been similar to those of the past six months, which the company notes gives it confidence it will "deliver further improved results in the near term".
"We continue to be optimistic and, it has to be said, we are bloody proud of our people who have delivered this record result."
Broad success
Mainfreight's businesses outside of New Zealand now contribute more than 76 per cent of its sales revenues and more than 63 per cent of net profit.
All five regions – the Americas, Asia, Australia, Europe, and New Zealand – all experienced improved sales growth in the year to March 2021.
The company says in light of "exceptional performance by our people in difficult operating conditions", its discretionary profit bonus has increased to $43.88m, up 60.8 per cent from $27.29m for the year prior.
Directors have approved a final dividend of 45 cents per share (cps), which will be paid out on July 16. This brings the full dividend for the year to 75cps, an increase of 27.1 per cent from the previous financial year.