Lomu's SUV tops motor listings
Rugby star's wagon leads the way as a weird and wonderful collection of vehicles proves popular for online buyers.
Posted on 14 January, 2021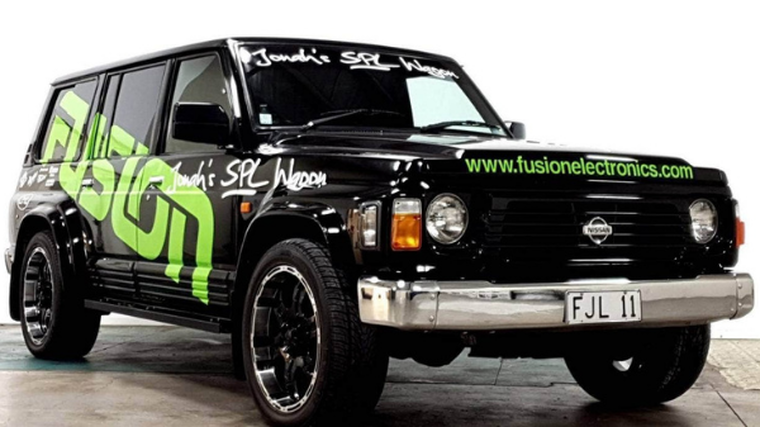 A custom SUV that once belonged to Jonah Lomu and a minibus with a shark on it were the most viewed vehicles on Trade Me last year.
The All Black legend's SPL Nissan Patrol, pictured above, features 20 speakers, capable of 160 decibels, a fully customised interior and a special paint job. Despite gaining more than 226,000 views, it is still for sale on the website for $49,990.
Kelly Tarlton's Toyota Coaster bus, which once ferried visitors to the Auckland attraction and has a shark rearing out of the roof, was viewed more than 195,000 times during 2020 and sold for $31,500.
Trade Me Motors says other popular listings included a 1993 Toyota Supra RZ and Merv from Taranaki's "Tesla Cybertruck" – a Toyota Vitz customised to look like the futuristic vehicle planned by Elon Musk's company.
A Mitsubishi made to look like the Delorean from the Back to the Future movies also drew plenty of pairs of eyes before selling for $2,020.
Besides cars, the lifeboat from the sunken Rena Monrovia and a futuristic UFO spaceship house also made it into the top 10 most-viewed vehicle listings.
Ruby Topzand, a spokeswoman for Trade Me, says: "We're always amazed at the wonders Kiwis have hiding in their garages and last year did not disappoint.
"In 2020, it was vehicles with an interesting backstory and some good old Kiwi creativity that appealed to Trade Me members."
Trade Me's most viewed vehicles in 2020
Jonah Lomu's SPL Wagon – 226,000 views, asking price $49,990
Kelly Tarlton's shark bus – 195,804 views, sold for $31,500
1993 Toyota Supra RZ Coupe – 162,103 views, asking price $74,990
DIY Tesla Cybertruck – 137,590 views, sold for $999
Futuro – UFO spaceship house – 104,621 views, asking price $0
1973 Toyota Land Cruiser – 99,862 views, sold for $42,000
1969 Holden Monaro GTS – 99,244 views, sold for $58,000
1997 Mitsubishi time machine – 96,894 views, sold for $2,020
Rena lifeboat – 94,402 views, sold for $9,800
2020 Nissan GTR Premium Lux – 88,058 views, asking price $182,995