Lockdown adds to delays at port
Auckland site vows to keep freight moving but admits latest restrictions are likely to frustrate efforts to catch up with demand.
Posted on 16 February, 2021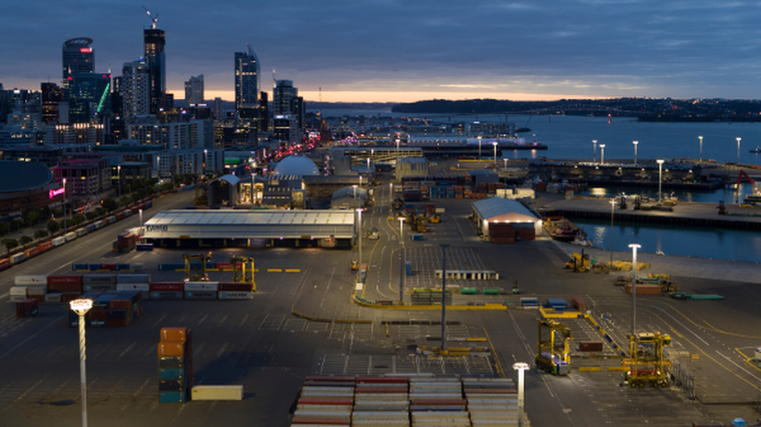 Ports of Auckland (POAL) looks set to suffer further delays to processing vehicles and freight coming into the country after reintroducing strict measures to prevent the spread of Covid-19.
The port has been battling issues around staffing, automation and an influx of goods at the same time the global shipping supply chain struggles with disruptions because of Covid-19. The Auckland region being hit with a snap lockdown has added to its problems.
Prime Minister Jacinda Ardern and her Cabinet has put Auckland at alert level three and the rest of the country at level two until at least midnight on February 17 following the detection in the community of the more contagious UK strain of the coronavirus.
The port is an essential service and has vowed to keep Auckland's freight moving during this period, but admits the lockdown is likely to add to existing delays for shipments in and out of the country.
Matt Ball, a POAL spokesman, says: "We have had a lot of practice at these lockdowns so we're well versed at doing this and all our Covid controls are back in place.
"It does have an impact on our operations, particularly on the container terminal where our staff are back in work bubbles that involve extra cleaning and separation of staff.
"It's not going to help trying to catch up with delays on the container terminal side of things but it's important we take these measures.
"On the vehicle side, we have a big flow of cars coming in and we're carrying on dealing with that and multi-cargo freight as best we can.
"It continues to be a very busy time. The new car-handling building is getting well used and it's proving very valuable as a bit of additional capacity."
To keep POAL staff safe while they work, the company has brought back measures that were adopted during previous Covid-19 lockdowns.
The measures include additional cleaning, sanitising and separating its workforce into bubbles. It has also restricted those who are allowed on site to essential staff, contractors and port users, with all other staff working from home.
A regular testing regime remains in place for its frontline workforce and POAL says it is working with the Ministry of Health on the rollout of Covid-19 vaccinations, starting with port staff in higher risk roles.
"We have prepared for the alert level changes and continue to review our pandemic plans," explains Ball.
"In order to keep our border protected, our preventative measures will remain in place until Auckland returns to alert level one, as we did for the other lockdowns.
"We understand frustrations regarding any delays these safety measures may bring about, but we can never be too safe.
"It's important for us to stay vigilant. We've done this before and we'll do it again."