Deliveries set to get easier for car transporters
Proposals to create loading bays along a stretch of an Auckland road look set to end years of problems around illegal parking.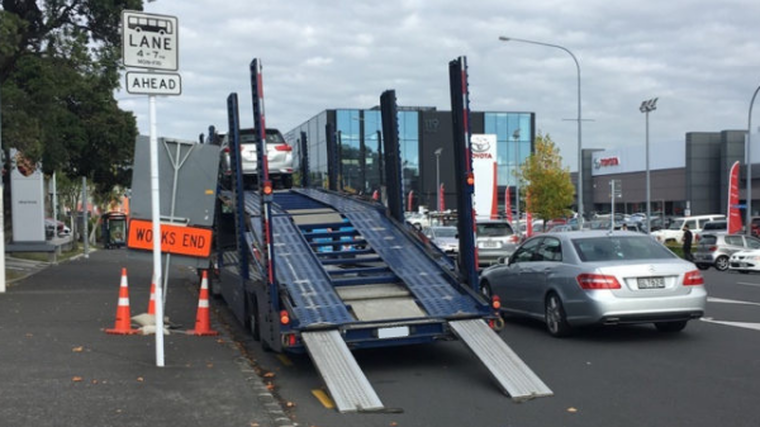 Car transporters will soon be able to go about their business without the risk of fines and parking tickets after plans have been announced to create four new loading zones along a busy city road.
Auckland Transport has announced proposals to change the layout of Great North Road in Grey Lynn, which boasts about 10 dealerships along a 500-metre stretch, in an attempt to put an end to illegal parking.
The move comes after efforts to stop car transporters loading and offloading vehicles while parked on the roadside and flush medians have been unsuccessful.
Special loading bays have been installed on side streets by Auckland Transport over the years but many of the transporters are too long to use them, reports Stuff.
Issuing tickets and fines, such as $60 for parking on broken yellow lines and $40 for parking on the flush median, has also failed to address the problem.
Mark Hannan, a spokesman for Auckland Transport, says more than $5,000 worth of tickets were issued for such offences in the three years to the end of 2020.
The organisation proposes to fix the issue as part of its Great North Road improvements, which includes four loading bays suitable for car transporters to be used outside of bus-lane hours.
Auckland Transport, Auckland Council, car yards and car transporters have met in the past to discuss the issues around delivering vehicles along Great North Road.
Most of the dealerships on the affected stretch of road were built before consent conditions around the loading and unloading of transporters were required.
Hannan adds: "Loading zones can improve the safety of the road and help improve the way it operates."
It is estimated the project will cost between $15 million and $19m, with final designs and costs to be confirmed.
How the new loading bays on Great North Road may look. Credit: Auckland Transport