Large SUV impresses safety experts
Toyota Land Cruiser's latest specifications deliver "welcome update" on its predecessor. PLUS – video
Posted on 13 January, 2022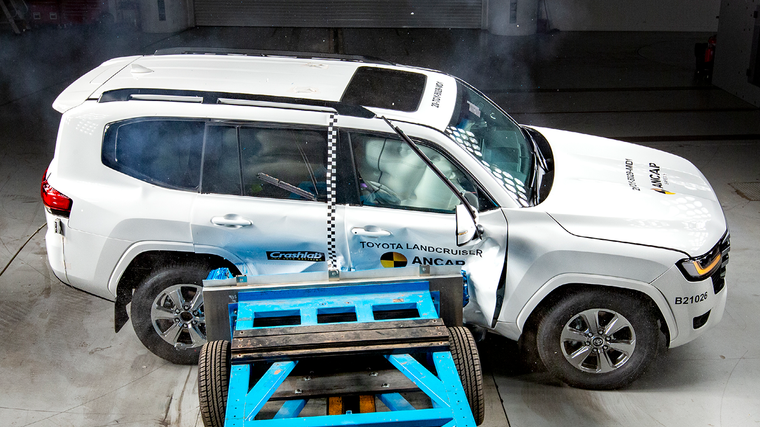 The new Toyota Land Cruiser 300 series has been awarded a five-star safety rating from ANCAP after impressing testers across all areas of assessment.
It received the second-highest score for vulnerable road user protection – 81 per cent – under the 2020/22 protocols set by Australasia's independent voice on vehicle safety.
Experts say the Land Cruiser can avoid collisions with pedestrians when turning across their path and it also delivered good performance in all forward pedestrian autonomous emergency braking (AEB) tests, with collisions avoided or mitigated across all scenarios.
Carla Hoorweg, ANCAP's chief executive, says the top rating will be good news for fleet buyers, rural users, and families across New Zealand and Australia.
"The protection the Toyota Land Cruiser offers to vulnerable road users, including pedestrians and cyclists, is impressive for a large SUV," she adds.
"Larger, heavier vehicles always present higher risks for other road users and this is why ANCAP focuses on a vehicle's ability to either avoid a crash, or reduce its impact, through our suite of safety assist tests.
"The safety specifications in the new generation Toyota Land Cruiser are a welcome update to its predecessor."
The vehicle scored 89 per cent for adult occupant protection, although it did present a higher risk to occupants of an oncoming vehicle and the full penalty for vehicle compatibility was applied.
While dual frontal, side chest-protecting and side head-protecting airbags, as well as driver and passenger knee airbags, are standard, ANCAP notes the Land Cruiser is not fitted with a centre airbag.
The Land Cruiser scored full points for protection offered to child occupants in the mobile progressive deformable barriers and side impact tests, after notching 88 per cent in this assessment area.
For the safety assist category, it recorded 77 per cent as the model comes with an AEB-car-to-car system, which avoided or mitigated collisions in most test scenarios, and a lane support system.
The five-star safety rating applies to all variants of the Toyota Land Cruiser except the GR Sport, which was not assessed.
To view full details on its ANCAP performance, click here.