Kia technicians tune up
The best of the best Kia technicians went head-to-head for the annual Skills Cup at KMAu's Sydney headquarters.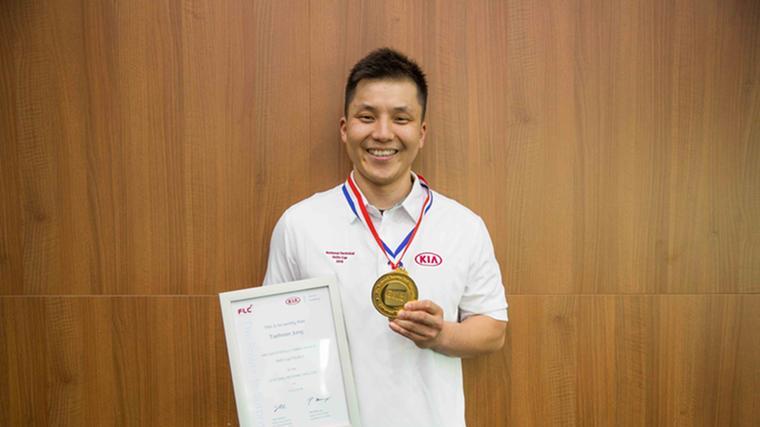 Facing a full day of practical and theoretic competition, the six finalists drawn from dealerships around Australia were locked in a battle for the ultimate prize of the Skills Cup and the right to represent KMAu at the global finals in South Korea late in April. At the end of the day 33-year-old Taehoon Jung, representing Werribee Kia, finished on top of the podium ahead of Hanseok Yoo (36) from Chadstone Kia. James Stewart, from John Hughes Kia, completed the podium finishers. Both the Gold and Silver medallists will be heading to Seoul as KMAu has been invited to send two finalists to the global competition recognising the growth Kia has enjoyed in Australia over the past couple of years. "It is very satisfying to have finished with the Gold Medal, and I really enjoy being able to continue to learn with Kia's training programs," Jung said. "I am now looking forward to the finals where my aim is to be the best in the world." Yoo said that he was honoured to have been chosen to compete at the Australian Skills Cup against "some truly excellent competition". "I love this country and I love the work I am doing," Yoo said. "Now I am really looking forward to the world competition. Kia Motors Australia Head of Aftersales, Phil Murray, said the standard of competition for the Skills Cup was improving year on year. "We have 325 registered technicians across our service network, a number that is growing every year through a targeted training program," Murray said. "The decision by KMC to invite two technicians from Australia to compete in the global event is a recognition of the quality of our technicians and their engagement with the training program." Last year, New Zealander Travis Cross was awarded top Service Advisor for the Asia-Pacific region at the Kia Skill World Cup. Brian Cockerton, from Auckland's Giltrap Kia, also earned his place to compete on the world stage after coming out top in the National Finals held at the Kia Motors New Zealand technical training centre in March last year.