January issue out now
Suzuki and Isuzu Utes warn they may exit the New Zealand market because of the clean car standard, records smashed with 165,582 new vehicles sold here in 2021, plus much more.
Posted on 14 January, 2022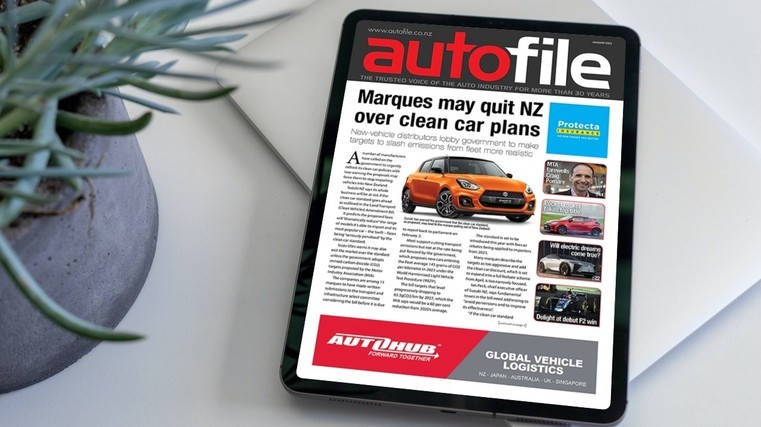 New-vehicle distributors are urging the government to rethink the clean car standard with two warning they may be forced to stop importing into New Zealand.
Suzuki NZ says its whole business will be at risk if the standard goes ahead as detailed in the clean vehicles bill. It adds the proposed law will "dramatically reduce" what it can import with the Swift being "seriously penalised".
Isuzu Utes also warns it may exit the market unless the government adopts revised CO2 targets as proposed by the MIA. Plus: What BMW, Ford, Hyundai, Mazda, Mitsubishi, Nissan, Renault, Tesla and Toyota have to say.
Records set for vehicle sales
A record 165,582 new vehicles were sold in New Zealand in 2021. The previous strongest year was 2018 with 161,519.
There were 112,226 new cars sold last year. That was up by 38.8 per cent from 2020 for their best year since 2017. New commercials came in at 53,356 for a 37.7 per cent rise.
Used-imported cars climbed by 7.8 per cent year on year to 121,942, but used commercials fell by 22.6 per cent to 7,001.
Ford's Ranger was again crowned top new model, while Mitsubishi's Outlander was best-selling car. Toyota's Aqua was the most popular used import with 8,853 sales.
Emissions targets may be reviewed
A report published by a government department states the Minister of Transport has been advised targets in proposed clean cars legislation could be adjusted in response to submitters' concerns on achievability.
"The minister has indicated he is willing to consider options to cabinet-agreed targets for 2026 and 2027," it states.
"It remains important cabinet reviews targets in 2024 given uncertain supply of low and zero-emissions utes and other commercials over 2025-26." Plus: Industry views on the select committee report.
In other news…
• Craig Pomare, Autofile's guest editor for this issue, is moving on as chief executive officer of the MTA after eight years. He calls on the powers of Janus, a Roman god with two faces, to look back on 2021 and forward to the rest of 2022.
• The country's most-prestigious industry honour – the AA Driven New Zealand Car of the Year 2021 – has been won by Toyota's GR Yaris. It saw off Hyundai's Ioniq 5 and Kia's Sorento in the final.
• VIA is up in arms because used imports will be charged with the same penalties as new vehicles when the full clean car discount scheme kicks in on July 1.
• The MTA's Tony Everett predicts supply will remain tight through the first half of 2022 as component shortages drag on.
• Major talking points for industry in 2021 included proposals to slash emissions, Covid-19 and global supply-chain issues. Check out the review of Autofile's in-depth and unrivalled coverage of the year just gone.
• Marcus Armstrong recalls his joy at scoring his maiden FIA Formula 2 victory in Saudi Arabia.
Plus: Car buyers using savings instead of loans, the best statistics on the light-vehicle fleet, industry movers, new models and much more. And, of course, a happy new year from all the team at Autofile.
To read the January edition of Autofile, click here.