Ford powers up for hybrids
Marque installing chargers across its dealer network after forging partnership with the Singer Group.
Posted on 16 September, 2020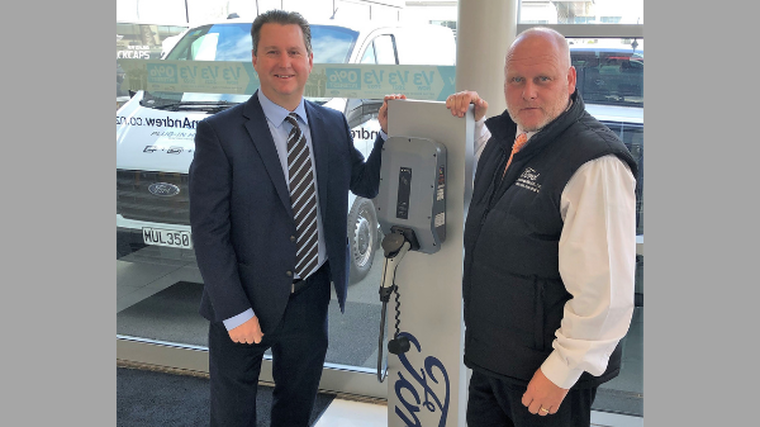 Ford New Zealand is preparing for the arrival of new hybrid vehicles by installing charging stations at dealerships across the country.
The marque has joined forces with the Singer Group to roll out the facilities before it launches of the Ford Escape plug-in hybrid vehicle (PHEV) and Transit Custom PHEV here.
Phase one of the partnership includes the installation of on-site charging stations at dealerships. Staff are also being trained on PHEV technologies and what advice to give customers about charging options at home or work.
John Andrew Ford in Auckland is the first dealership to get one of the chargers. Simon Rutherford, pictured left, managing director of Ford NZ, joined Phil Saunders, right, dealer prinicipal, to check out a demonstration unit at the site.
"Partnering with Singer for our dealer network charging station installs and customer referral program made great sense," he adds.
"They have a successful track record of installing chargers for both businesses and homes.
"We want to ensure the charging process is simple and easy to use. And it is. If you can plug in a TV, you can plug in your Ford."
The charging stations are compatible with Type I and Type II connections. Most Ford dealerships will install the faster 22kW AC chargers on their forecourts, future proofing for when full electric vehicles (BEVs) arrive.
The forecourt chargers are for customer use and most sites will also have a second charging station in the service areas. Each dealership showroom will also have a non-live charging demo unit on display to show customers how the devices operate.