Driver uses forklift to stop car thief
FRIDAY FUNNY: Quick-thinking action foils alleged intruder from driving off in family car. PLUS – video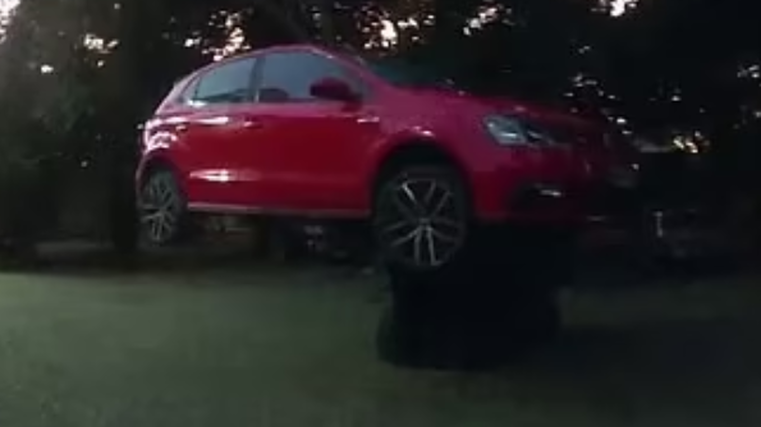 An Australian father has foiled an alleged car thief by using a forklift to hoist the suspect up into the air while she was behind the wheel of his vehicle and not letting her down until police arrived on the scene to make an arrest.
Brendan Mills and his family returned to their home in Logan, west of Brisbane, to find a woman inside their red Volkswagen Polo.
The woman reportedly refused to come out of the car and was preparing to drive it away, but Mills had left a forklift parked nearby and swiftly jumped into it and scooped the car off the ground.
The alleged thief was unable to open the car doors because of the position of the forks and she remained inside the vehicle until police arrived.
Queensland Police say she had allegedly broken into the house earlier on June 5, showered inside and changed into a pair of the family's clothes.
"The car was slowly lowered and the police arrested the 24-year-old woman without incident. She was subsequently charged with burglary and unlawful use of a motor vehicle," they add.
Mills says: "I asked them many times get out of the car, 'We're home, you're busted. Get out the car, you know it's over'."
He adds after the woman refused to leave the Polo he saw the "forklift sitting there" and wondered, "why not?".
Police, however, warned people not to "engage in methods of disrupting criminal activity which may involve risk of personal harm or further legal recourse".
Autofile will be bringing you a Friday Funny online every week and we would love to see any entertaining videos, pictures or stories related to all things automotive that you know of or want to share. Email them to editor@autofile.co.nz.