Dealership dishes out grants on anniversary
Farmer Autovillage announces tens of thousands of dollars of support for organisations as thank you to community.
Posted on 24 November, 2021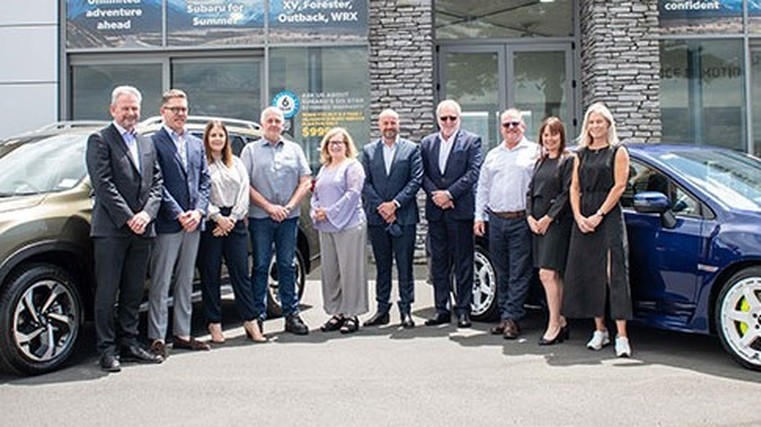 A car dealership is celebrating its 30th anniversary by handing out $35,000 of grants and loaning a car to a number of worthy causes.
Farmer Autovillage hits the three-decade milestone this month and over the years has helped many community organisations through short-term vehicle loans, project funding and sponsorships.
It has now set up the Farmer Autovillage 30th Year Celebration Grants, which it says will be used for positive change and improve accessibility to resources for current and future generations.
Originally established in 1991 as Bay Nissan, the dealership has grown from a downtown Tauranga site with 12 staff to its current Mt Maunganui-based operation where a team of 170 represent 13 brands.
Mike Farmer, group managing director, says: "This is our way of saying thank you to the Bay of Plenty for all the support this city has shown our business across the last 30 years. Continuing support for the Bay of Plenty community is our responsibility and our future."
The three initiatives chosen for the anniversary grants cover education, community and the environment and have been awarded to the Acorn Foundation, Kura Kai and PiPS – People, Plants, Schools.
The Acorn Foundation, a Western Bay of Plenty community group that connects caring people and organisations with causes that matter in the region, has been handed $27,000 by Farmer Autovillage to administer nine scholarships.
Mount Maunganui College, Papamoa College and Te Puke High School will receive three scholarships worth $3,000 each to provide the lucky students with a financial boost as they prepare to head off to tertiary study.
Applications will be run by each school and will open in July 2022, with the recipients being announced at each school's end-of-year prizegiving.
Farmer Autovillage is also supporting Kura Kai, which has a kaupapa of "whanau cooking for whanau", with a long-term loan of a 2021 Nissan X-Trail SUV.
The organisation was founded in 2020and raises funds to purchase chest freezers, which are donated to high schools.
Kura Kai then builds a local community of volunteers who give their time, money and resources to cook family meals to help keep the freezers well stocked. Each school is responsible for distributing the meals to support rangatahi and their whanau.
Marie Paterson, general manager of Kura Kai, says: "Having a vehicle means we can deliver more meals to our partnering secondary schools and now have the ability to connect in with more Kura Kai volunteers and our communities."
The final beneficiary of the dealership's grants is PiPS, which will receive $8,000 to support the initiative formed by parents in 2016 to help support garden programmes at local schools.
The cash will be shared among seven schools – Omanu Primary, Mount Intermediate, Arataki School, St Thomas More Catholic School, Tahatai Coast School, Papamoa Primary School and Suzanne Albert Catholic School – and go towards a special garden and environmental project at each site.