Bewley snares T86 double
Exciting opening weekend of championship sees Tom Bewley and rookie Hunter Robb claim wins.
Posted on 21 November, 2023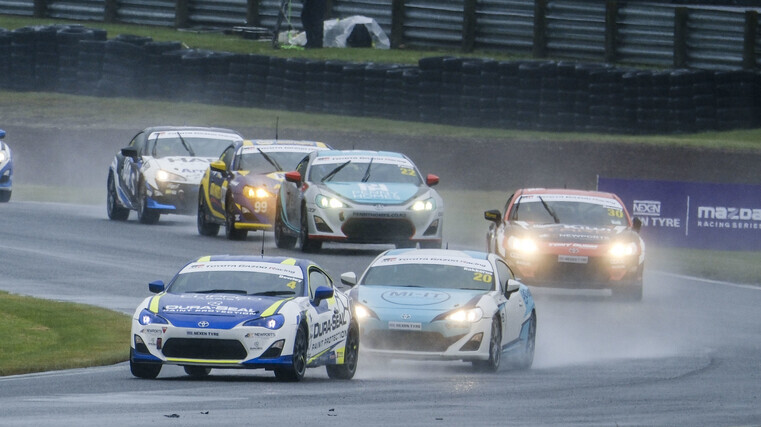 Photo: Bruce Jenkins
Tom Bewley saved his best to last with a dominant drive in the third and final race of the first weekend of the 2023/24 Toyota 86 Championship at Taupo International Motorsport Park.
He didn't make the greatest of starts from pole and Jackson Rooney, sharing the front row with him, got away much cleaner and took the lead into turn one.
A confident Bewley, however, pushed hard and exited the corner level before sneaking ahead into the mid-field complex.
While Bewley sailed away into the distance to a huge 20-second win at the flag, the battle for second was ultimately won by Hayden Bakkerus. William Exton held his nerve for a solid third.
"I saw Jackson go right on turn one, so I took the outside option and made it work," says Bewley. "I got a little tap from him in the action and thought I might have a bit of damage, but it was fine.
"I kept concentrating and saving the car. I'm stoked to get the race wins and the round."
Bewley took his first win of the season in November 19's first race after a scintillating drive from ninth on the grid.
In a wet race starting line astern after two laps behind the safety car, he made his way through the pack having started on the fifth row in the reverse top-10-format, 10-lap race.
He made his move for the lead on lap four passing Bakkerus at turn four in a clinical before racing away to establish a comfortable lead ahead. Rookie Jackson Rooney made in-roads into his lead late on, but Bewley had it all covered.
Meanwhile, Hunter Robb took his first T86 win in the soaking wet season-opener on November 18. The Action Motorsport rookie converted a front-row start into a lead at the end of the first turn, which he held until the fifth lap when the safety car came out after Tim Leach made contact with Cormac Murphy.
An epic battle for the win was on the cards, but it wasn't to be. They stayed in that order with William Exton taking the final podium place.
Robb, who has finished fourth, third, second and first in his previous four series races, says: "It was great to win. After being nervous before the start, I was looking forward to battling with Tom.
"I wasn't sure we had the pace to win if the race had gone the distance. But never mind, a win is a win."
There's now a nine-week gap before the championship resumes for the second round at Manfeild Circuit Chris Amon.