Best-sellers go head-to-head in AEB tests
Three Toyota and two Mazda vehicles come out on top as safety experts put the technology in leading cars under scrutiny at the same time.
Posted on 23 November, 2020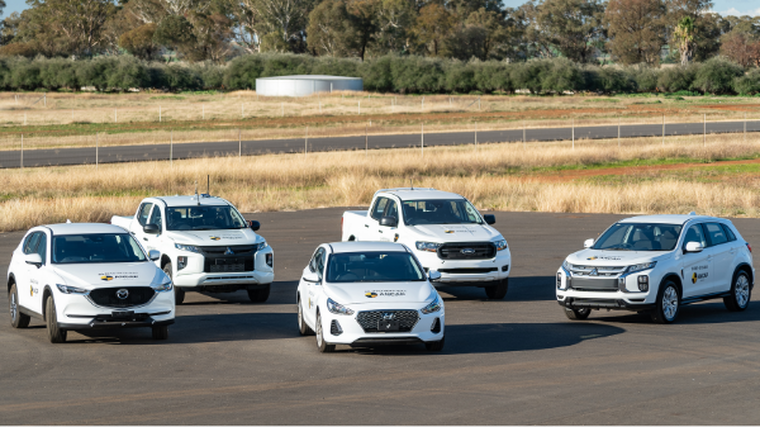 The effectiveness of autonomous emergency braking (AEB) in Australia's top 10 selling models has been revealed in side-by-side comparison tests conducted by ANCAP Safety.
Australasia's independent voice on vehicle safety says it is the first time it has conducted such tests on the technology fitted to a range of cars all at once.
Five models – Toyota Hilux, Toyota Corolla, Mazda CX-5, Mazda 3 and Toyota RAV4 – provided "advanced" levels of pedestrian-detecting capabilities in the tests.
The AEB systems in the Ford Ranger and Kia Cerato delivered an "intermediate" result, according to ANCAP.
Similar technology in tested versions of the Hyundai i30, Mitsubishi Triton and Mitsubishi ASX did not perform so well in detecting and avoiding collisions with pedestrians – particularly at night – and provided "basic" functionality.
ANCAP introduced checking the effectiveness of AEB systems as part of its routine safety rating assessment process in January 2018. To the end of 2019, 60 new vehicle models had been assessed against the common criteria, with all offering some form of AEB as standard or an optional extra.
Each of Australia's top 10 selling models carry an overall five-star ANCAP safety rating, with five of them rated against the common 2018-2019 criteria and their AEB pedestrian performance known.
The other five models were released at earlier dates and rated to previous protocols, hence their AEB pedestrian performance was – until now – unknown.
ANCAP conducted a series of special tests on the best-selling models to determine their effectiveness across a range of pedestrian impact scenarios in order to provide consumers with comparable information.
Rhianne Robson, director – communications & advocacy, says: "While it's not possible for ANCAP to re-test each make and model against updated rating criteria each year, to assist consumers we've focussed on Australia's most popular selling models to see how they each perform when it comes to avoiding or minimising impacts with some of our most vulnerable road users – pedestrians.
"ANCAP has been encouraging the fitment of AEB systems for many years, and through our influence, vehicle manufacturers have done very well to voluntarily equip their vehicles with AEB technology ahead of regulation."
Robson adds the results show a broad difference in the effectiveness of the systems fitted to the various cars. She says this was to be expected given the staggered introduction of new models and maturation levels of AEB technology.
"Vehicle safety technology continues to advance at a rapid rate with more sophisticated systems entering the market through new market entrants and model facelifts, and as these vehicles are updated, we expect their performance to improve," she explains.
"When purchasing a new or used vehicle, consumers should look for a vehicle equipped with AEB as standard."