August issue out now
Substantial waiting times are expected to be the normal for at least the next year when it comes to getting new vehicles to New Zealand, probe into clean-car concerns, chaos at 2 Cheap Cars and in-depth industry statistics.
Posted on 05 August, 2022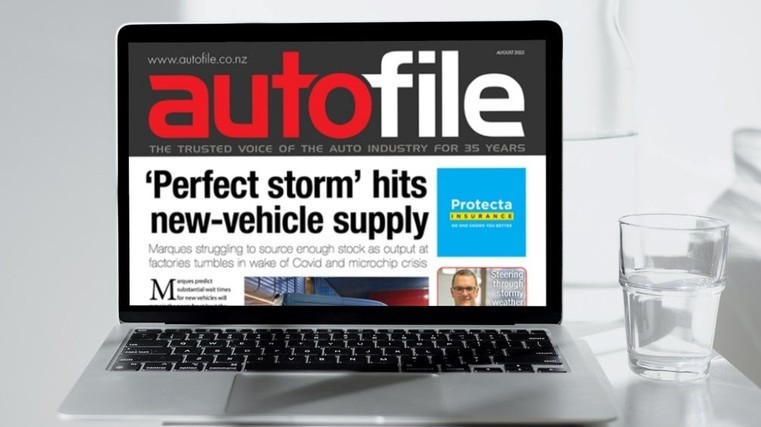 A "perfect storm" has hit the new-vehicle industry when it comes to supply of stock to New Zealand. Many marques are struggling to source enough cars from overseas as output at factories tumbles in the wake of the pandemic and semi-conductor crisis.
Substantial wait times are expected to remain the norm for at least the next year as production woes mean many manufacturers will fail to keep up with demand from Kiwi consumers. We talk to the likes of Ford, Toyota, Audi, Subaru, Mitsubishi and Hyundai about the way forward.
Autofile looks at what some NZX-listed companies' plans in the car industry are as the economy tightens up. Turners' Todd Hunter says supply issues are set to continue impacting the market, and "while pandemic uncertainty has decreased, economic uncertainty has increased".
Geneva Finance's David O'Connell says the group has sufficient funding to support expected growth and expects the insurance business to continue expanding. "There will be an increased focus on improving our IT systems". Plus: MTF Finance's Mark Darrow on short-term economic and political conditions presenting "major challenges".
• The government has ordered an investigation into a list of concerns that have led to VIA dropping its support for the clean car programme.
• It's chaos behind the scenes at 2 Cheap Cars with multiple resignations ahead of the company's annual shareholders' meeting this month.
• The MTA's Tony Everett looks into a Motor Vehicle Disputes Tribunal ruling on the rejection of an electric vehicle sold under the clean car discount.
• Dealers are having to pay more to apply to be on the Motor Vehicle Traders' Register following government changes, but renewal fees for individuals are now lower than they used to be.
• VIA's Kit Wilkerson explains the problems it has identified with the clean car discount and why the standard's roll-out should be delayed.
• Dan Cook, chief operating officer of Mitsubishi Motors NZ, on why some politicians' claims of clean car "tax" victory are way off the mark when it comes to ute sales.
• The Japan Automobile Manufacturers' Association says the outcome of elections two days after Shinzo Abe's death reflects "expectations for stable governance".
• Autofile explains what the clean car standard is all about.
• In motorsport, Hunter McElrea scores his first Road To Indy victory. Plus disputes, industry movers, new cars and in-depth statistics – first with Autofile.
To read the August edition of Autofile, click here.