Aston Martin to debut supercar trio
Aston Martin is debuting its AM-BR 003, Vanquish Vision Concept and Lagonda All-Terrain Concept at the 2019 Geneva Motor Show.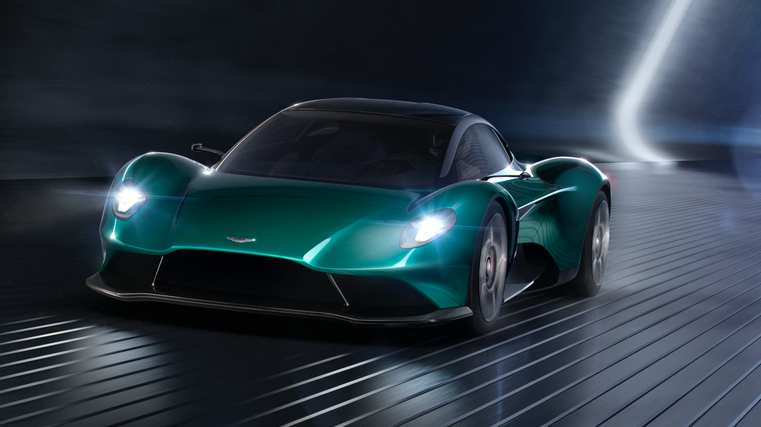 Aston Martin has chosen the 89th Geneva Motor Show to complete a trio of world debuts with the first glimpse of the breathtaking Vanquish Vision Concept.
The AM-BR 003
The AM-BR 003 is the third in the Aston Martin mid-engine family, following Valkyrie and Valkyrie AMR Pro. AM-RB 003 benefits from the close involvement of Red Bull Advanced Technologies in its design and engineering, featuring Aston Martin's new hybrid turbo V6 engine.
As its codename suggests, the AM-RB 003 follows the Aston Martin Valkyrie and Valkyrie AMR Pro as the third hypercar in Aston Martin's mid-engined story.
According to Miles Nurnberger, Aston Martin director of design, while AM-RB 003 is heavily influenced by Aston Martin Valkyrie, it is very much its own car: "We were quite deliberate in AM-RB 003 to not disguise its lineage, but we were equally emphatic that it would be a distillation of Aston Martin Valkyrie and not a dilution."
The Vanquish Vision Concept
The Vanquish Vision Concept previews the design language of Aston Martin's first series production mid-engine supercar. Reviving an iconic nameplate, the model will be the fourth in Aston Martin's mid-engine series.
Reviving an iconic nameplate traditionally reserved for Aston Martin's flagship production model, the advanced design study provides evidence of the proudly British brand's intent to compete in one of the most hotly contested market sectors in the automotive world.
Andy Palmer, Aston Martin Lagonda president and group CEO, said: "Our first series production rear mid-engined supercar will be a transformational moment for the brand, for it is the car that will propel Aston Martin into a sector of the market traditionally seen as the heartland of luxury sports cars."
The Lagonda All-Terrain Concept
The Lagonda All-Terrain Concept, pictured below, gives the first glimpse of the first production model from the luxury marque to be exclusively driven by a zero emission powertrain.
Built around near-future technologies such as its advanced Battery Electric drivetrain, the Lagonda All-Terrain Concept is an ultra-stylish, supremely luxurious, fully electric emission-free vehicle that can transport its occupants to remote and spectacular locations.
The 89th Geneva Motor Show opens to media and VIPs on March 5. Public days are March 7 to 17.