Arrival date for Solterra
Subaru is aiming for its first fully electric vehicle to arrive here in April 2023, but its pricing has yet to be revealed.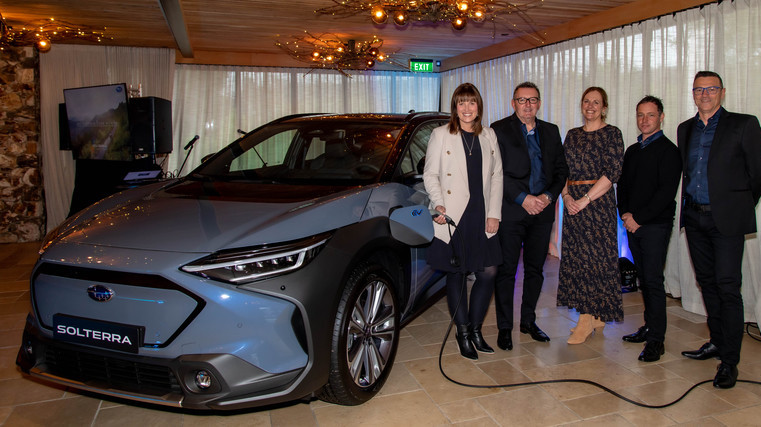 Subaru has confirmed its first battery electric vehicle (BEV) will arrive in New Zealand in 2023 with April being the target month.
The long-awaited Solterra is built on the new e-Subaru global platform, with its name being a combination of the Latin words for sun and earth.
The BEV has the same capability in any conditions and on any terrain thanks to its X-Mode all-wheel-drive (AWD) control system. A new grip-control function enables it to run at a constant speed while stabilising the vehicle when the going gets tough.
The e-Subaru global platform has been developed as BEV-dedicated. It enables an experience with superior driving dynamics, which brings high stability and handling that linearly responds to the steering operation.
The marque's AWD technology now comes to an EV. Due to functions of axle motors at the front and rear, power distribution and brake vectoring are controlled continuously and precisely to maintain grip for each wheel. Grip optimised to road conditions assures stable traction on wet or slippery surfaces.
Like the other Subaru SUVs, the Solterra features the X-Mode AWD control system that enhances the sense of security on rough roads. By adding grip control, which enables the vehicle to run at a constant speed while stabilising it – even on rough roads, capability is further enhanced.
The Solterra's cockpit layout is all about visibility, simplicity and ease of use. Essential information for safe driving is displayed on a low-mounted instrument panel and high-visibility console.
High-capacity battery packs are placed under the floor and, by utilising that battery as a part of the structure, a low centre of gravity and high body strength and rigidity are achieved.
By devising the skeleton shape of each part of the body and optimising the material strength, the SUV achieves weight reduction and superior collision safety at the same time.
In the event of a collision, the structure that transfers the load to multiple body skeletons efficiently absorbs collision energy. It protects not only the occupants, but also the BEV's high-voltage equipment in the BEV.
Wallis Dumper, managing director of Subaru of New Zealand, has outlined Subaru Corporation's future commitments to apply electrification to all its vehicles – EVs and hybrids – sold worldwide by around 2030.
By 2050, the brand is aiming to reduce its average carbon dioxide (CO2) emissions by at least 90 per cent compared with 2010.
The company says its ambition is to continually develop and deliver products that meet societal needs and contribute to the environment through advanced technologies.
In May, Subaru shared its plans to reorganise its production structure to better accommodate demand for EVs and hybrids, which includes opening new production lines.
The target date for an in-house mixed production line is 2025 and an EV-only in-house production line in a new factory is scheduled for around 2027. This is a first for Subaru and will involve a financial commitment of around NZ$3.2 billion over the next five years.
As for the Solterra's reveal event this week, Dumper, pictured second left with the Subaru of NZ executive team, says that after months of speculation, he is happy to confirm the company will begin its electrification journey with the BEV available to Kiwi customers in the first half of 2023 – with April as the target month.
"The Solterra has generated huge interest here and, although we can't confirm pricing at this stage, this SUV EV will have a cruising range per charge of approximately 460km. This will enable Kiwis plenty of travel time between charges on all-electric-powered adventures.
"Preparation is well under way for Solterra. We will have a right-hand-drive evaluation model here later this year, which we will be showcasing to potential customers.
"We are thrilled to be adding an EV to our line-up and are happy to be sticking to our core values by delivering an AWD EV."
More details will be available in the lead-up to the Solterra's launch in New Zealand.